Telehealth study
England's Florence looks like a winner
Given the increasing focus on telehealth and telecare services aimed at improving long-term patients' living conditions and save costs, numerous pilots in various countries have been conducted for proof of concept purposes. Among these, the United Kingdom's 'Whole System Demonstrator' (WSD) programme is the largest randomised controlled trial. Set up by the English National Health Service (NHS) this aimed to find out the effects of remote care.

Report: Cornelia Wels-Maug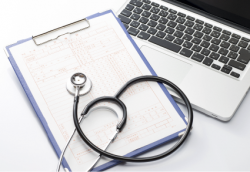 A core consideration for the design of the WSD programme was to have a sufficiently large sample size, because past studies' samples were either too small (often focused on under 100 patients), not allowing any generalisation, or they did not meet robust evaluation criteria. Hence, a large sample incorporating 64 sub-studies with nearly 6,000 patients − affected by seven different health conditions − and 660 caregivers was drawn. The 47 studies that focused only on effects of telehealth included individuals suffering from heart failure/stroke (22 studies), diabetes (22 studies) and chronic obstructive pulmonary disease (COPD) (3 studies) and took place at three sites in England (Kent, Newham and Cornwall).
Launched in May 2008, the UK programme ran until December 2009 and was followed up by a lengthy evaluation phase, with the final assessment only becoming available in 2014. The evaluation measured how telehealth affected the use of secondary healthcare (such as emergency room visits), mortality, quality of life and cost effectiveness, and investigated the patient, professional, and organisation factors related to its implementation. In its presentation 'What impact does telehealth have on long-term conditions management?' the King's Fund, an independent charity working to improve health and healthcare in England, came quintessentially to the somewhat disillusioning conclusion: 'The evidence for the positive impact of telehealth is promising but mixed, and mainly limited to specific conditions such as diabetes and heart failure. Significant benefits have yet to be proved....' Additionally, it provided some disease-specific insights:
• 15 out of 22 studies on heart failure proved that remote monitoring reduced hospitalisation
• from the 18 studies on diabetes patients that examined effectiveness of care, 11 reported a positive effect,
• research on COPD showed that telehealth cuts hospital admissions, but offered mixed results in terms of clinical effectiveness and care experience.
All's well that ends well
As disappointing those results may sound, Dr Charles Lowe, Charles Lowe Consulting, who led the bid for Newham to partake in the WSD programme, calls it 'a visionary approach to kick-starting the use of telecare and particularly telehealth to improve patient outcomes and reduce costs'. He reckons, 'partly as a result of the trial, equipment cost and functionality have changed so much, and we have learned so much more about how best to deploy and prove the benefits of the technology. Indeed, in spite of published material, all three WSD sites decided subsequently to mainstream telehealth, which is as good an indication as any of its value.' And Richard Stubbs, Yorkshire and Humberside and North East Coast and North Cumbria Academic Health Science Network (AHSN), who worked with Lowe at the time, remembers: 'As our clinical staff could support four times as many people with telehealth than they could without, there was a clear efficiency case to be made.'
Outlook – health apps as game changers
Since the time the WSD programme was conducted, equipment costs have fallen extensively and functionality has improved considerably. The biggest game changer in the provision of telehealth, however, has been the arrival of apps. The fact that they are downloadable onto smartphones both significantly curtails upfront cost and installation time.
By setting up 'Florence', England's NHS came up with a simple telehealth strategy based on text messaging to manage patients with long-term conditions. Encouraged to become more involved in their own well-being, they text their vital parameters and receive personalised advice about managing their condition, or are asked to contact their clinician if their readings or symptoms are beyond a certain predefined threshold. There is no longer the need to involve specialist telehealth hardware.
Starting out in Stoke-on-Trent, the Florence has been used by over 70 health and social care organisations and more than 12,000 registered patients. It is growing daily.