Endovascular brachytherapy
Endovascular brachytherapy has been successfully modified by scientists at Isotopen Technologie München AG (ITM), solving problems of radiation exposure to Rhenium-188. The researchers are now producing Rhenium-188 with previously unknown high specific activity in a new type of generator, Isotopen Technologie reports.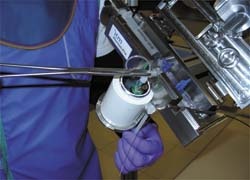 The itm Rhenium-188 PTA solves the problems previously experienced with endovascular brachytherapy in the peripheral area. As there is a lack of suitable stents for the femoropopliteal area, restenosis following conventional PTA has been a big problem.

Rhenium-188 with very high specific beta-activity is administered via a radiation catheter immediately after dilatation of the stenosis. The radiation time is individually determined for the patient; it is generally between seven and ten minutes.

Using the itm Rhenium-188 PTA is simple, fast and safe, the firm reports. 'A special applicator ensures that doctors are not exposed to any noteworthy levels of radiation despite the high activity levels used.'

Rhenium-188 beta rays have ideal characteristics within the vessels and radiation levels drop quickly. Radiation penetrates to a maximum level of about 3mm so that only the vascular walls are selectively radiated. The procedure is carried out on an angiography table and there is no need to transport the patient to the radiotherapy department, the company points out.

A centring unit is not needed in the vessel with the itm Rhenium-188 PTA. The catheter centres itself within the vessel when filled with the isotope, so the radiation dose is also homogenously distributed in vessels with irregular configuration, Isotopen Technologie says, adding: 'Only 23% of long and complex femoropopliteal stenoses and vascular obliterations still remain open six months after PTA. With the itm Rhenium-PTA, the cumulative rate achieved after two years is around 46% of arteries treated.