Discovering Toshiba
A medical giant that's packed with inspiration, enthusiasm and commitment
Toshiba Medical Systems Corporation is a global medical solutions company covering research and development, manufacture, sales and service for medical diagnostic X-ray systems, CT scanners, magnetic resonance imaging (MRI), ultrasound, nuclear medicine systems, as well as healthcare IT systems and radiation therapy equipment.

Daniela Zimmermann, of European Hospital, recently visited Toshiba's massive manufacturing factory based in Nasu, an industrial area located 150 km north of Tokyo. Toshiba Corporation is one of Japan's biggest leading companies - just as Siemens is in Germany. The medical business is one of the core businesses of the entire Toshiba organisation; it is a rapidly growing and promising business segment.

At Nasu factory, which is noticeably clean and organised, lots of eager, busy people are engrossed in their work. Innumerable products awaited deliveries after system assembly and strict quality control tests.

As the No.1 supplier of diagnostic medical systems in Japan, Toshiba manufactures more equipment than offered in Europe, e.g. clinical laboratory systems and Healthcare IT solutions. Daniela next travelled to Toshiba's global head office, a high-rise building located in the heart of Tokyo to interview Masamichi Katsurada, President and CEO of Toshiba Medical Systems Corporation worldwide and a former chairman of the Japan Industries Association of Radiological Systems (JIRA)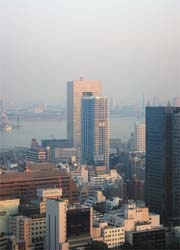 Daniela Zimmermann: What trends do you foresee in healthcare in the next five to ten years?
Masamichi Katsurada: It is most important to envision our future. Fundamentally, in any country - Japan, the USA, those in Europe – social security expenditure and aging population are most challenging. Roughly half of social security expenditure is for healthcare. All the developed countries are struggling with this, trying to improve healthcare efficiency and quality. Humans are the same everywhere, striving for better life, better healthcare, resulting in healthcare cost increase.
In short, the recent global trend towards cost containment for social security and medical treatment is changing the medical environment. In addition, developed countries must properly manage healthcare related issues for their aging populations, while developing countries usually focus on establishing basic medical care facilities.

To satisfy the wide range of medical requirements, we always endeavour to maximise clinical value. We use our advanced technologies to provide clinically high-value-added solutions over the entire process of medical care from preventive medicine and screening, to diagnosis, to treatment, and to follow-up. We also contribute to the containment of medical care cost and to the improvement in medical service efficiency, as well as to the enhancement of the quality and safety of medical care by providing optimal solutions for the needs of the market, i.e. for the needs of the medical care field.

Our philosophy is summarised in our slogans 'Made for patients, 'Made for you' and 'Made for Life'. Our goal is to contribute to medical care and to society by providing clinical value.

Does Toshiba offer financing to doctors, clinics, or hospitals?
In Japan we have a financing company. Also in the US, our own financing company is in operation.
In Europe we offer finance with different models and partners depending on countries.
Finance is one solution for our customers. Let's talk more about our business. In Japan, we not only offer diagnostic imaging systems, but we're also in the hospital solutions business, providing excellent after sales service. The Toshiba Group has a lot of experience and know-how in PC business, IT solutions business and home electronics and so on. By utilising these resources, we strongly promote healthcare IT solutions business in Japan. Because of differences in healthcare systems and languages, we have alliances with healthcare IT firms in the US and Europe.

Is China a market for your IT?
China has huge potential but is also challenging. Their social system is different from western countries. I think we have opportunities in China; bit by bit we are developing and establishing IT software there. In the next five to ten years, there will be many changes in the healthcare environment and the way they will use technology for screening and so on, and then IT will also be important. We are looking in that direction.

What kind of role does the European market play for Toshiba?
The European market is very important for us, as well as the US market. We started our business in Europe around 1970. Today there are 27 EU member states and, beyond that there are 41 countries in Europe, including Russia, where Toshiba is doing business. We established Toshiba Medical Systems Europe B.V. in 1981.

On the basis of a well established customer base in Western Europe for more than 35 years, we are now expanding our market share also in Eastern Europe and the CIS, with particular emphasis on the new EU member states, where substantial growth in GDP and healthcare investments are expected. We will contribute to healthcare in these countries.

Our defined mission in Europe is to contribute to healthcare in Europe, establish, grow and maintain market leadership and customer satisfaction in four main imaging modalities: Ultrasound, CT, MRI and X-Ray, which are important in the medical imaging field. We are seeking to achieve this mission through consistent and clear communication of tangible performance benefits and demonstrated product innovation leadership in combination with strong and continued investments in our European customer support infrastructure.

Through close clinical cooperation with leading universities and luminary sites across Europe, and through many kinds of alliances with European enterprises, we continue to develop our product capabilities to meet and exceed the changing needs of the European customers and markets. Currently, we are experiencing a strong focus on 'clinical outcome' and 'Life cycle cost & -management' objectives, which are central elements of quality assurance and cost containment programs under implementation in several EU member states.

In summary, it can be said that the size and complexity of the European market, in combination with high standards of healthcare and academic expectations, provide Toshiba with ongoing challenges that requires us to remain at the forefront of competitiveness and thus are essential to the sustainability of our global success.

Let's discuss molecular imaging. What does Toshiba think about this development?
Our business activities are focused on medical systems, IT systems, and healthcare solutions that contribute to the entire process of medical care from preventive medicine and screening, to diagnosis, to treatment, and to follow-up. We feel that molecular imaging can make significant contributions in a variety of areas. We plan to employ molecular imaging to provide individualised medical care by developing new technologies in various areas such as DNA-based diagnostic techniques, in vitro diagnostics, and clinical application software for diagnostic imaging systems based on molecular imaging. We are participating in the national projects and collaborative research programs with universities and will continue to invest our resources in this field.

Toshiba is at the very high end of technology with its 256 slices CT and the 3-Tesla MR. What is your strategy to implement those technologies in the global market, and what is your strategy to combat competition?
We are using our technological leadership to advance global collaborative development of these new technologies, including clinical applications, with the goal of providing the highest possible clinical value.

In the field of CT, we are conducting the 'CorE64' global multicentre research project in collaboration with nine leading healthcare institutions in seven countries. In this global research project, we have been evaluating the results of CT coronary angiography obtained using our Aquilion 64-slice CT system, and comparing these results with those obtained by conventional coronary angiography using cardiovascular X-ray systems. This research is yielding significant results.

We believe that 256-slice CT will be a great breakthrough that will revolutionise the conventional CT studies. We have started the clinical development of this new technology in collaboration with clinical researchers. The keywords include 'extremely low dose' and 'whole-organ perfusion'.
Currently, we are also conducting a global collaborative research project in the field of MRI. Our superior technology has led to the expansion of our MRI system sales. These technologies include high-speed cardiac scanning by parallel imaging, world No.1 silent scan technology, and outstanding clinical applications such as Fresh Blood Imaging (FBI), which can depict blood vessels without contrast medium. As for the 3-T MRI, we have continuously performed its basic research and development and are considering the time of release. Currently we are developing a commercial 3-T system, which we, as a leading supplier of MRI systems, will promote globally.
We provide leading ultrasound imaging technologies such as myocardial strain imaging and Micro Flow Imaging. We have a large diagnostic X-ray system line-up that covers the full range of clinical applications. Our recently released FPD vascular system with multi-access C-arm has quickly gained an excellent reputation worldwide. In addition to medical imaging technologies, we also provide IT services to improve efficiency in healthcare activities.

Another of our priorities is research and development for future healthcare technologies, such as a surgical robot and Computer Aided Diagnosis (CAD) systems.

Why did your MRI enter the German market so late?
MRI involves significant investments and costs, therefore business volume is important. We need volume to fully support our customers and provide excellent service and maintenance. Only recently did all pieces of the puzzle come together for us, hence the renewed MRI activities in the German market.

Japanese companies are known worldwide as being very IT and technology oriented. What strategy does Toshiba have to guide clients and enhance communication with them?
Although IT and technology are areas in which we are extremely competitive, our primary strategy is to build on our technological leadership to develop medical systems that provide the highest possible clinical value to our customers in actual medical practice building on our technological leadership. We always place the greatest importance on building long-term relationships with our customers. Based on this policy, we have enjoyed close relationships with our customers in Europe since we first began operations there 37 years ago.

In the future, we will continue to invest aggressively in sensor, detector and systems integration technologies, since these are core technologies, in which we have extensive experience. To maximise clinical value, we will continue our research and development with a focus on actual clinical practice. In Europe, we also plan to further strengthen our partnerships with medical institutions by conducting collaborative research and so on.

In addition, after-sales service and customer training programs are essential to ensure that the customers can always get the maximum out of their systems. We will strive to further improve our after-sales service and training programmes, which is very important for achieving the highest level of customer satisfaction.
More on the subject:
More on companies: