Digital X-ray unit with a wireless detector
Siemens Medical Solutions, which launched Ysio wi-D - its first digital X-ray unit equipped with a wireless detector - at Medica, said it combines all the advantages of digital X-ray imaging with the flexibility of an X-ray film cassette.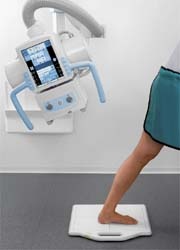 The wireless detector can be removed from the examination table and placed almost anywhere to perform examinations without the need to mobilise or reposition a patient, for example from a wheelchair.
The Ysio wi-D's overhead support, examination table and the Bucky wall unit were specially designed for digital X-ray imaging. Using a button the system can take up to 1,000 different positions, easily circumnavigating obstacles in an X-ray room. The system features pre-assigned organ programs and operators can quickly change settings on the colour touch screen display of the tube assembly, or on a remote control.
Siemens reports that the new system supplies excellent image quality; via WLAN, the data is transmitted to the diagnostic workstation, where it can be processed with DiamondViewPlus software to enhance and optimise image detail contrast and noise level.
Given its flexibility, short examination time and image quality the system should increase daily patient throughput considerably.
More on the subject:
More on companies: