News • Norwegian healthcare region
Digital pathology added to existing enterprise imaging solution
International medical imaging IT and cybersecurity company Sectra has signed a digital pathology contract with the Norwegian healthcare region Helse Vest RHF. The healthcare region already uses Sectra's enterprise imaging solution, which will now include digital pathology.
The region-wide solution allows Helse Vest to share resources among healthcare providers, and using the same system for multiple diagnostic specialties enables integrated diagnostics, which is key for efficient cancer care. "With digital pathology we equip our pathologists with tools and a workflow that is not possible with microscopes, and that enables us to benefit from new technology. Digital pathology is also a key enabler for meeting the ambitions for shorter lead times defined in the national cancer care pathways," says Professor Lisbet Sviland, Head of Department of Pathology, Helse Bergen.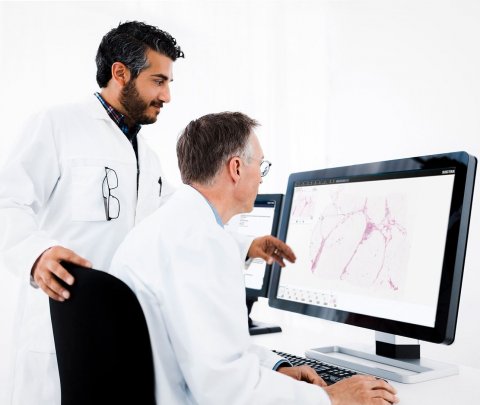 Helse Vest is responsible for the care of the approximately 1.1 million residents of the region. It provides health and medical care through 11 public hospitals divided into four health trusts, all of which have pathology departments.
Professor Lisbet Sviland continues: "We are very excited to continue our journey toward unified management of our medical images. Adding digital pathology to our existing imaging solution also allows us to benefit from truly integrated diagnostics." The solution will be integrated with the laboratory information system (LIS) at Helse Vest. Tight integration between Sectra's solution and the LIS will provide the pathologists with a complete overview of the patient history, in one application and enable an efficient workflow based, for example, on sub-specialization and priority. The solution's vendor-neutral approach gives Helse Vest freedom of choice in selecting a scanner vendor.
Using digital images of tissue samples rather than physical glass slides, pathologists can access and share current and historical images and information from anywhere and at any time. This digital solution provides pathologists with assistance at critical decision points, such as grading or performing more precise measurements. The solution from Sectra also enables additional image analysis, both through its proprietary solution for cell counting and through integration with third-party solutions. Digital access also facilitates second opinions, external reading resources and specialist consultations, in addition to making integrated diagnostics possible. "Over the years, we have been able to expand the Sectra solution from radiology imaging to a region-wide archive for various types of medical images, and we can now add pathology as we digitize the pathology department. Being able to expand this solution has been important to efficiently realizing our enterprise imaging strategy, and I'm excited to be working together with the Sectra team once again," says Erik M. Hansen, CEO at Helse Vest IKT.
Helse Vest has used Sectra's enterprise imaging solution for many years to store all types of medical images and multimedia, and has used the radiology module to manage images and patient information throughout the region. With this digital pathology contract, signed in November 2020, the solution will also include approximately 100,000 pathology examinations per year.
Source: Sectra
More on the subject:
More on companies: