Definiens Lymphexpert launched for European Radiologists
Definiens, the number one Enterprise Image Intelligence company, launched its first computer-aided detection (CAD) application, Definiens LymphExpert at the annual European Congress of Radiology (ECR) in Vienna, Austria. Now commercially available for European radiologists, the application assists in tracking lymph nodes of interest, facilitating earlier detection of the metastatic spread of cancer.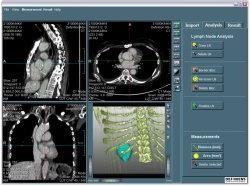 Manual segmentation and analysis of lymph nodes, even by experienced radiologists, is extremely challenging and the results are often inconsistent. Previously, it has also been impossible for radiologists to assess the volume of individual lymph nodes. Definiens LymphExpert facilitates the manual detection of lymph nodes in CT images. Once a radiologist identifies a lymph node, the application automatically segments the node and analyzes its properties. It quantifies the lymph node according to RECIST and WHO guidelines and visualizes its volume. With a precise, three-dimensional picture of a lymph node's growth or diminution over time, the cancer's progression or remission can be accurately measured.
Definiens LymphExpert is built on Definiens Cognition Network Technology®, a unique
technology that examines objects in relation to one another and emulates human cognitive processes to extract intelligence from images. The application has already been utilized in clinical trials conducted at the University Hospital of Munich. It was successfully deployed in more than 70 cases, identifying and analyzing more than 400 lymph nodes sized between 1 and 14 cm.
"The ability to rapidly and accurately measure the growth and development of lymph nodes is a significant step forward in oncology research," said Peter Herzog, MD, a member of the Clinical Radiology Department at the University Hospital of Munich. "In our clinical study, Definiens LymphExpert demonstrated an excellent ability to reliably segment and analyze lymph nodes of varying sizes and densities."
Following its successful deployment in the University Hospital's clinical trials, Definiens
LymphExpert will now be utilized by Imaging Service AG, a leading provider of teleradiology services. The company provides consistent, high-quality diagnoses from CT and MRI images. Imaging Service will employ Definiens LymphExpert in the analysis explore the capabilities of Definiens LymphExpert and anticipate the technology will enable us to offer our customers greater accuracy and faster results. For us, this means providing more efficient services and increasing productivity," said Barna Almasi, Technical Manager at Imaging Service. "Definiens LymphExpert is our first application for the medical imaging market, but more importantly it is the industry's first proven application that assists radiologists in identifying and analyzing lymph nodes volumetrically and comparing them over time," said Frank-P. Klein, Vice President, Medical Imaging at Definiens. "We're excited to provide an application that addresses one of the most challenging tasks facing medical imaging professionals."
Definiens LymphExpert is now available to European radiologists. More information is
available at http://www.definiens.com/definiens-lymphexpert_186_7_50.html.