CLICK – and tumour growth is known in seconds
Some years ago telepathology – a complex but well developed procedure where histology specimens are photographed using a camera mounted on a microscope and transmitted – was thought to be the wave of the future.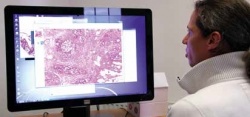 Enter digital pathology, and telepathology was virtually doomed. At Charité this happened six years ago, and today six slide scanners support the pathologists in their daily work.
The scanner provides 20x magnification and, while in a next step another 40x to 60x magnification may be generated, 20x is entirely sufficient, Professor Manfred Dietel explains: 'This has proven to be ideal for our purposes.' Scanning a slide takes between two and ten minutes depending on resolution and size.
The digitised slides – which average a five to six gigabyte volume – are stored centrally at Charité. To enable colleagues around the world to access the slide data easily on the Charité servers, the Institute of Pathology team developed a dedicated streaming procedure based on NASA technology, which does not transmit the entire huge data volume but only those sections on which the external viewer is currently working.
Another in-house development is tumour board software that facilitates many procedures and workflows*, such as jumping back and forth between stained slides. Sections can be selected so that the corresponding areas are shown when the stains change. Even more important from the pathologist's point of view are the software's quantification functions that allow determination of important prognostic factors by a mouse click and within seconds.
The software calculates the exact percentage of positive and negative oestrogen and progesterone receptors in properly stained digitised specimens to support decision-making with regard to an anti-hormone therapy. Another example: From a slide stained with the antibody Ki 67, and digitised, the software can determine the exact percentage of growing tumour cells – i.e. tumour growth.
Moreover, the software makes 3D histology possible. Anywhere from several dozen to 200 slices need to be cut off a paraffin block and scanned consecutively in order to be able to recognise the growth pattern of certain objects. While this sounds very exciting, Prof. Dietel is cautious: 'At this point, I do not consider the additional information 3D histology currently offers for diagnostic purposes to be relevant.'
The benefits of digital pathology are easily described: It can do anything conventional microscopy and telepathology can do – and more. The slide data are much easier and faster to quantify and images are transferred by a mouse click.
In difficult cases, for example a rare sarcoma, a second opinion can be obtained from experts anywhere around the world. The same holds true for intra-operative exams: When the pathologist in the sterile operating theatre is unsure, he can directly consult an on-campus colleague. For the many weekly tumour board sessions at Charité, the pathologists often prepare digitised slides to show, for example, remaining tumour cells at a margin of resection. Teaching and research also profit from the new technology. Students can look at case studies and, , digital pathology is frequently used in research for documentation purposes in antibody tests.
Prof. Dietel expects digital pathology to gain significant ground in all areas of application over the next five years, particularly regarding quantification. 'New algorithms provide information for classification. We are very active in this area and indeed recently published an article, Dietel points out. Whilst these complex algorithms are designed to differentiate between tumour cells and other tissue cells there is still one major limitation: Prof. Dietel explains that, unlike in the USA, where slide digitisation is reimbursed with approximately $60, German health insurers do not pay for this service at all.
Profile:
Professor Manfred Dietel has been Director of the Institute of General Pathology and Anatomical Pathology at Charité University Hospital Berlin, Germany, for more than twenty years. He received his medical training at the University of Hamburg where in 1983 he was called to the Chair of Pathology and Anatomical Pathology and at the same time served as Senior Resident at the University Hospital. In 1989 he was appointed Director of the Institute of Pathology at Christian Albrecht University Kiel, Germany. Four years later he joined Charité. His research focuses on molecular tumour pathology, evaluation of biomarkers, resistance mechanisms and virtual microscopy.