ECR 2015
Carestream Improves Digital Breast Tomosynthesis
Carestream will show enhancements to its digital breast tomosynthesis (DBT) module including a slabbing tool, improved workflow capabilities and the display of DICOM-compliant 2D synthetic views (which are generated from the 3D dataset) at the 2015 European Conference of Radiology. The latest DBT module is currently available.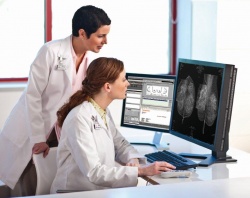 The new slabbing tool combines slices of a DBT series, while allowing the user to choose different rendition modes and slab thicknesses. In scientific studies, radiologists have reported that this capability can help visualise calcifications and decrease reading time. The generation of 2D synthetic views is an alternate approach to acquiring conventional 2D mammography views, which can help reduce the radiation dosage a patient is exposed to while allowing full advantage of the benefits of digital breast tomosynthesis.
One study that documents the effects of setting the slab thickness of volumes to 2 millimetres found that visibility of micro-calcifications improved—and there was no significant effect on mass visibility. Radiologists were presented with 20 sets of images containing 16 tumour masses and 8 micro-calcification clusters. They ranked 2 millimetre slabbed sets relative to standard 1 millimetre slices. The results indicate that it is possible to review DBT volumes with 2 millimetre slabs without compromising image quality.
In another study published by SPIE DBT slices were combined and merged into 2 millimetre slabs. Sets of slabs were created from 35 clinical DBT volumes with malignant or benign findings and from 50 DBT volumes drawn from screening sets without any prior review. There was no significant decrease in reading time on clinical cases, but data for screening images suggests that increasing slab thickness can reduce the time radiologists spend studying normal images by 20 percent.
Carestream's DBT module adds advanced workflow capabilities and specialised tools that can optimise the reading of digital breast tomosynthesis exams at the same time as other procedures. Carestream's Vue Mammo workstation and PACS allows reading of traditional mammograms, breast ultrasound, breast MRI, DBT or general radiography exams from a single desktop.
Healthcare providers worldwide use Carestream's Vue PACS and mammography reading tools for reading of routine screening mammograms as well as diagnostic mammography exams.
"Carestream's Vue PACS is an important tool in our countrywide breast cancer screening programme in Kuwait. The PACS provides industry-leading features that help enhance detection of breast cancer and allow us to follow up with our patients, which is extremely important in analysing data as an initial phase in our programme," said Dr. Hanaa Al Khawari, Consultant Radiologist (FRCR, FFR, RCSI) and Chairperson, Radiology Department, Infectious Disease Hospital. Dr. Al Khawari is the head of Kuwait's National Mammography Screening Programme.
As part of Carestream's "Knowing Matters" strategy, Carestream's Vue portfolio of healthcare IT solutions is designed to offer greater value and insight for clinicians, foster collaboration, control costs and streamline dataflow. The company's Vue solutions amplify the clinical, business and IT value of radiology services.
More on the subject:
More on companies: