Cardiac Assist Devices
Cardiac assist devices (CAD) are blood pumps that support the circulatory functions of severely ill cardiac patients.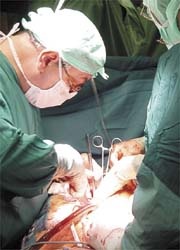 Unlike replacement with a total artificial heart (TAH) - when a patient's heart is removed and replaced by an artificial heart - the patient's heart remains and is assisted by a CAD.

The device may be configured to support both cardiac ventricles, with one pump for each cardiac chamber - thus named biventricular assist devices (BVAD). Left ventricular assist devices (LVADs) and right ventricular assist devices (RVAD) support the left or right sides of the heart.

The CAD's position may be inside the thoracic or abdominal cavity but, at present these implantable devices can only support the left ventricle. Implantable pumps are also only suitable for adult patients. If biventricular cardiac assistance is needed, or if a patient's body size makes the implantation impossible, a paracorporeal ventricular assist device outside the body and connected to the heart via cannulae, must be used.

CADs may be implanted in patients with acute heart failure, for example after myocardial infarction or after surgery. Patients awaiting a heart transplant, whose cardiac function deteriorates before a suitable organ can be implanted, need circulatory support for the period before a transplant. In selected patients with dilative cardiomyopathy, a CAD may be removed after a prolonged support period, and when the patient's own heart has recovered and can maintain blood circulation.

Permanent mechanical circulatory support is necessary for patients whose own heart function does not recover, if they are not suitable to receive donor organs.

In the special subgroup of paediatric cardiac patients, circulatory support may be provided by paediatric paracorporeal assist devices - after acute myocarditis, dilative cardiomyopathy, surgical therapy, or as a complication of a congenital heart defect. However, only a few CADs are available for this group of patients.

CAD support of the circulatory system is an effective treatment for those who cannot receive a heart transplant when their own heart fails. Patients with acute heart failure (HF), who are stabilised with a CAD before a transplant have 1-5 year survival rates, compared with patients after primary heart transplantation. Due to donor organ shortages, long-term cardiac support is increasingly important and may represent an option for patients with chronic heart failure.