Breathing new life into ventilator control
The new SERVO-U includes an elegant man/machine interface and new-wave touch-screen controls
To deliver the next step forward in mechanical ventilation, Jens Viebke, CEO of the Maquet-Getinge Group, decided to take a step backwards by first talking with the people who would be using the system.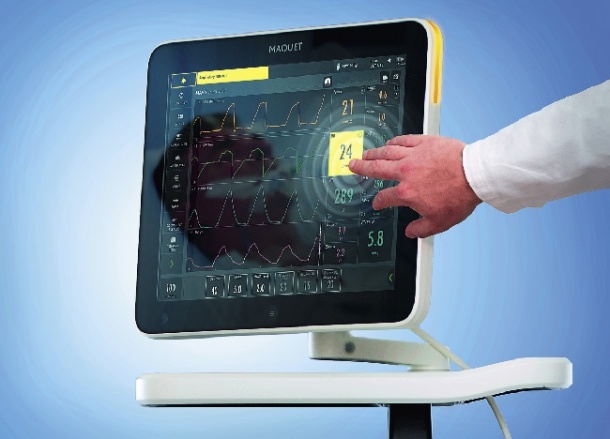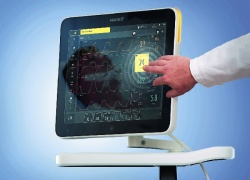 Long before there were any prototypes, he said, the design team sought out clinicians and staff at intensive care units across the globe.
'We decided early in the programme to invest in user validation. We gathered input from hundreds of people working in intensive care units from North America, Europe, India, the Middle East and South America. We created cross-functional groups of physicians, nurses, respiratory therapists and biomedical equipment technicians – and, what is unique is that we kept talking to these groups at every stage throughout the whole development process,' he said.
The new SERVO-U ventilator platform is the result of this large-scale collaboration with intensive care experts from around the world.
'This has always been our legacy at Maquet,' said Viebke. 'It is how we can help hospital staff deliver the best clinical outcomes in the most cost-efficient ways.' Yet the design and development process to build a new ventilator from the ground up was an unprecedented effort in the company's history.
Despite cultural and organizational differences, and beyond the divergences in clinical practice, a common thread emerged around the ease-of-use needed in the complex setting of an ICU.
'Irrespective of geography, people in ICUs were interacting with equipment in the same way, responding to the interface in the same way,' he said.
In a next step toward a next-generation design, Dr Viebke decided to invest in expertise for the man/machine interface that was becoming central to the emerging design brief. 'When you get away from the engineers who normally design medical technologies and bring in man/machine and graphical user interface professionals you can take the programme to another level,' he explained.
Maquet's own research found ICU user groups consistently referring to consumer electronic devices as benchmarks for interfaces and, not surprisingly, they pointed specifically to the new wave touch-screen controls pioneered by Apple with its iPad or iPhone.
'One of the reasons for the success of those devices is that despite very different levels of understanding, users can take advantage of a lot of functionality,' Dr Viebke explained.
The result of this re-engineering is the highly intuitive touch-based interface that is the most striking feature on the SERVO-U platform.
Suddenly the complexity of managing a critical life-support system becomes easier while making patient information and therapy options more accessible.
Behind the straight-forward, even elegant simplicity of the interface is a sophisticated processing platform that delivers both information and recommendations based on context. In other words, what you need to know is intuitively displayed when you want to know it, based on the patient condition and the actions of the user.
With SERVO-U users can customise the interface, for example selecting views that suit a preferred workflow from basic displays of waveforms and values to advanced views with a comprehensive value sets. Touch screen controls provide dynamic images and visual feedback that enhance user confidence in tailoring treatments to the individual patient, whether through automatic calculations for ml per kilogram of predicted body weight, or therapeutic workflows and monitoring of outcome related values to support the use of the ARDS Net strategy and NAVA (Neurally Adjusted Ventilatory Assist).
The intuitive interface, offering help menus, recommendations and prompts, facilitates fast learning curves for physicians and staff alike. Training can take place one-to-one at the bedside, as well as through large screen presentations for groups.
Like the consumer electronics that inspired the interface, SERVO-U bristles with connectivity features whether plugging into a central monitoring station or accommodating the export of trend reports, data sets or screen shots.
The new ventilator system also takes an innovative approach to 'alarm fatigue', which Dr Viebke called a common, but critical concern in an ICU.
'We have created an easier access to alarms that help staff to identify the causes for the alarm, and SERVO-U can suggest solutions for the conditions triggering the alarm,' he said.
SERVO-U is a completely new platform designed to create a more intuitive way of working, he said, and the touch screen interface becomes the key in making patient treatment as flexible, fast and efficient as possible. Calling it a once-in-a-decade achievement, the CEO also said the next-generation platform is 'future-proof,' a secure investment it is designed to grow with the customer as new functionalities become available.
MAQUET at Medica: Hall 12, C63+D63
PROFILE:
In 1991 Jens Viebke graduated from Stockholm's Royal Institute of Technology (KTH) with an MSc in Chemical Engineering. In 1996 he gained a PhD in Polymer Technology at the same institution and, in 2001, he added an Executive MBA degree from the Stockholm School of Economics to his credentials. He has held several key management positions within the Life Science sector, including Section Manager at Fresenius Kabi (1996-1999), Strategy Manager at Accenture (2000-2002), Head of R&D Biotechnologies at GE Healthcare Life Sciences (2006-2008), Head of Business Strategy at GE Healthcare Life Sciences (2008-2009), and Chief Marketing Officer at GE Healthcare Life Sciences (2009-2010).