Biplanar radiography system provides new views
A new imaging system for universal angiography and neuroradiology was recently introduced by Siemens Medical Solutions: The Axiom Artis dBA Twin biplanar radiography system.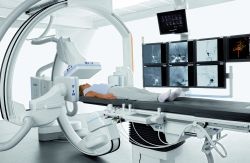 The unit, equipped with modern biplanar flat detector technology (two 30 x 40 flat detectors) is a flexible system for the use of neuradiological and abdominal examinations as well as pediatric applications requiring low dose.
Fast display of the anatomy in two planes with simultaneous imaging as well as programmable detector positioning and intelligent collision protection are the main advantages of the biplanar system. Due to detail resolution, the biplanar flat detector technology supports save diagnostics and interventions.
In combination with the software DynaCT, Axiom Artis dBA Twin achieves soft tissue differentiation comparable to CT images. Therefore, intracranial bleeding can be detected faster and brain tissue can be displayed in greater detail. Using the biplanar radiography system together with the software, physicians are able to check therapeutical measures, which means that the patient does not need additional examinations like CT or MR.
More on the subject:
More on companies: