Better diabetes care for the UK
Good news for diabetes patients in the UK: According to a report published recently by the Department of Health, diabetes care in the NHS is improving and focusing more on prevention. The result: More patients have been identified, and in more people at risk development of the condition could be prevented.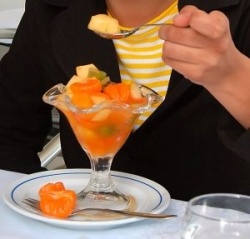 In line with the Government's commitment to provide a preventative health service, the NHS has recorded particular progress regarding the following priorities in diabetes care:
Identifying diabetes earlier in people who were unaware that they had the condition

Around 600,000 people have been diagnosed with diabetes in the last five years, equivalent to 2,000 a week, and are now receiving the treatment they need to manage their condition


Identifying people at risk of diabetes and providing treatment and advice to help prevent them from developing the condition


The vascular risk programme announced in April, Putting Prevention First, is expected to prevent around 4,000 patients from developing diabetes each year
The obesity strategy, Healthy Weight Healthy Lives is helping people to make lifestyle changes that will reduce their risk of diabetes
Ensuring that people with diabetes are given tests that help to prevent long-term complications


Increasing numbers of people with diabetes are being routinely monitored by their GP for indicators of complications
The report, Five Years On reflects on how well the NHS is performing against the standards for diabetes care set out in the National Service Framework (NSF) Delivery Strategy in 2003.
As well as reflecting on progress made in diabetes care, today's report sets out areas which must be improved during the second half of the timeframe set by the NSF.
For example, the report acknowledges that more work must be done to improve outcomes for young people with diabetes and that the Children and Young People Implementation Support Group, set up by the Department of Health, is working to make progress in this area.
The Department of Health also pledges to continue to work with the National Screening Committee and the NHS to offer screening for diabetic retinopathy to all people with diabetes.
Health Minister, Ann Keen, said: "Today's report shows that the NHS is getting better and better at identifying people with diabetes and at supporting them to manage their condition.
"The Next Stage Review made prevention a priority for the NHS and this is especially relevant to diabetes, as a disease whose global increase in prevalence is partly a consequence of rising obesity.
"Our vascular risk assessment programme, Putting Prevention First is expected to prevent thousands of people developing diabetes each year and our strategy to tackle the rise in obesity will help many more reduce their risk of the disease."
National Clinical Director for Diabetes, Dr. Rowan Hillson MBE, said: "The NHS has responded impressively to the first five years of the National Service Framework. More and more people with diabetes are getting good routine care, and their outcomes are improving year on year.
"The next five years will continue to bring challenges for diabetes teams as they work to further improve diabetes services in both primary and secondary care.
"I look forward to working with the National Diabetes Support Team and other key partners such as Diabetes UK to support the NHS in driving further improvements in care for people with diabetes."
A copy of the Five Years On report can be found here.
The twelve standards of the Diabetes National Service Framework (published in 2001) cover all aspects of diabetes care and prevention, and together with the Delivery Strategy (published in 2003), set out a ten-year programme of change and improvement which will raise the quality of services and reduce unacceptable variations.
3. Since the NSF standards were published, the Quality and Outcomes Framework (QOF) has rewarded GP practices for the identification and treatment of people with diabetes.