Bayer Diabets launched DIDGET
Bayer Diabetes Care in the UK and Ireland has launched Didget, the first and only blood glucose meter for diabetic children that connects directly to Nintendo DS and DS Lite gaming systems.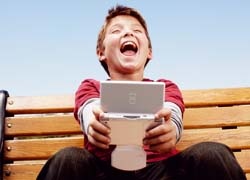 The idea is to help them manage their condition by building consistent blood glucose testing habits and meeting personalised glucose target ranges. For this they receive points that can be used to unlock new game levels and customise their gaming experience.
'The Didget meter can help ease the parent/child tension that testing often creates by adding an element of fun and rewards to the routine,' explained John Gregory, Professor in Paediatric Endocrinology at the Wales School of Medicine, Cardiff University. 'Because it is designed with children in mind, the meter can transform a child's blood glucose testing experience from something they have to do into something they want to do.'
'Until now,' added Sandra Peterson, Head of Bayer Medical Care, 'blood glucose monitors have been created with adults in mind. This product was inspired by a parent of a child with diabetes, to directly address the challenges facing diabetic kids and their parents.'
Aimed at 5-14-year-olds, the new meter will also connect to Bayer's Didget World , a new password-protected web community expected to become available soon. There youngsters will be able to spend points earned from consistent monitoring practices and create their own page.
Bayer reports that its Didget meter 'grows with a child's ability to manage his/her diabetes, offering two testing levels, Basic and Advanced. Self-monitoring blood glucose is an essential tool in the optimal management of childhood and adolescent diabetes. Self monitoring blood glucose should be prescribed at a frequency to optimise each child's diabetes control, because the frequency of self-monitoring correlates with glycaemic control. The Didget meter is based on Bayer's Contour system and uses the same technology and test strips, providing the same easy accuracy, No Coding technology, automatic correction for haematocrit and common interfering substances including maltose, 5-second test time, a small
(0.6 µL) sample size and automatic detection of control solution'.
The meter comes with Knock 'Em Downs: World's Fair, which includes a full length adventure game and mini game arcade.
You can register at www.bayerdidget.co.uk to be notified when the meter becomes available. Nintendo DS and DS Lite gaming systems are sold separately.
Bayer Diabetes Care UK, which is working in partnership with the UK's Juvenile Diabetes Foundation (JDRF), will donate to the Foundation £5 from every meter sold.
More on the subject:
More on companies: