Automated urinalysis systems
Roche's product portfolio includes three systems for urinary diagnostics, all of which use the proven Combur test strips.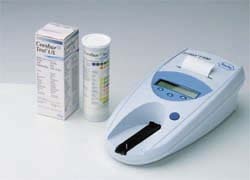 The test strip reader Urisys 1100 provides fast, standardised results and avoids errors with visual evaluation. Pathological results are clearly highlighted on the display and weekly calibration with a control test guarantees precise results, Roche reports.
The fully automated analysis system Urisys 2400 has a colour touch screen for use in larger laboratories. In this device, up to 400 Combur test strips are held in a cartridge. 'The user-friendly handling and flexible software facilitate "walk-away" times of up to 20 minutes,' Roche points out.
The cobas u 411 analysis system connects to the laboratory data processing system. A semi-automated, optional barcode reader and sediment terminal support an efficient daily routine. A USB connection, with easy to use via a touch screen, facilitates secure archiving of data or the uploading of new software versions.
More on the subject:
More on companies: