Automation
Proven Practices for Lab Automation Success
Cost constraints, higher workloads, and a shortage of qualified staff are three distinct market trends driving demand for greater efficiency in the laboratory. The goals of automation are to make workflow more efficient, improve the turnaround time and predictability, and reduce errors - all while accommodating future growth. Automation also frees up staff for other activities.

Report: Franz Walt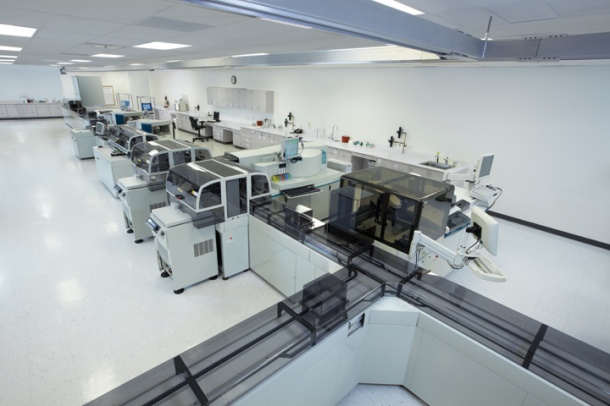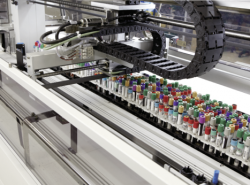 With the right infrastructure, and software behind it, automation gives a lab more control over its operations, simplifies lab processes, and improves business and clinical outcomes. As the global leader* in total laboratory automation, Siemens Healthineers has helped laboratories worldwide to implement intelligent solutions approximately 1,500** times. What does it take to optimize a laboratory for automation excellence? Here are proven practices that have contributed to our customers' automation success:
Align your laboratory with a reliable provider. The decision to automate creates a long-term relationship with the products and the people who support the equipment. Therefore, having a strategic relationship with a company that has extensive experience with the process is essential for achieving your long-term laboratory automation goals.
The planning phase. Our Healthcare Consulting Solutions (HCS) consultants' expertise in Lean and Six Sigma proces improvements enables us to work with the customer to design the optimal workflow for the unique needs of each laboratory. Before the installation begins, our Lean consultants establish key performance indicators (KPI). These KPIs will demonstrate that the process has been successful. Then, our consultants manage the installation and implementation process according to the project plan.
Initial health check. Health checks, performed by Siemens Healthineers, assess newly installed and existing automation processes to determine how the entire automation system is working Ð from the time the sample enters the laboratory until the result is generated and the tube is disposed. An initial health check on an automation installation should be done within three months of the go-live. The goal of the first health check is to understand how the system is performing as a whole, and to ensure that it is meeting the KPIs. The results of the initial health check help to set the performance benchmark for the laboratory moving forward. If performance is below target, an action plan is devised.
Making adjustments. As the installation progresses, adjustments are made which may involve dissecting and rebuilding the current workflow processes and removing non-value-added-steps.
Follow through with "health checks". Once the automation system is up and running, health checks should be performed annually.
Automation is meant to improve workflow efficiency, to improve turnaround time and to reduce errors. Health checks ensure these goals are met. When labs get it right, it can pay off with measurable improvements in workflow and clinical excellence and a true multidisciplinary solution. One case study to illustrate the power of automation is the Hospital Clinic de Barcelona in Spain. In 2001 it was among the first healthcare providers in the world to create an automated core laboratory to help address the challenges of growing workloads and shrinking budgets.
The lab incorporated chemistry, immunoassay, hematology and hemostasis testing, as well as a broad portfolio of pre- and post-analytical tasks onto a single sample track. As time went on and the facility's needs changed and grew, so too did their automation solution. Their track was upgraded to a next-generation solution that supported individual tube routing and STAT prioritization as well as high-volume hematology and coagulation analyzers.
Over the course of its journey with Siemens Healthineers, the core laboratory has been able to consolidate instruments, integrate and automate STAT testing, reallocate staff to higher-value responsibilities, and save upwards of ¨600,000 in tube costs - all while increasing clinicians' trust in the laboratory to support excellence in patient care. Today, in conjunction with the automated core lab, the Biomedical Diagnostic Center, which comprises all laboratories at the hospital, processes approximately 500,000 orders from hospital patients annually, and 135,000 orders from outside hospital centers and private laboratories. While there is no single factor for successful implementation, Siemens Healthineers strives to make your journey to automation as seamless as possible by serving as a trusted partner.

PROFILE:
Franz Walt is a seasoned executive with more than 26 years of experience in leadership roles at two of the world's largest and most influential healthcare companies, Siemens Healthcare and Roche. He has served in positions of increasing responsibility, with roles in both country and headquarters organizations in Asia Pacific, Iberia and Latin America, Europe, and the USA, in the pharmaceutical, medical device, and in vitro diagnostics industries. Currently Mr. Walt is president of Laboratory Diagnostics at Siemens Healthcare, with responsibility for global P&L and portfolio. Prior to his current role, Mr. Walt held a succession of senior positions at Siemens Healthcare, including CEO of the Chemistry, Immunoassay, Automation and Informatics Business Unit. During his 22 years with Roche, his executive positions included Geschäftsführer (CEO) of Roche in Mannheim, Germany, and 8 years as a board member of the Global Roche Executive Committee (DiaEC). Mr. Walt has a Master of Business Administration degree from City University in Bellevue, Washington, and completed postgraduate studies in executive education programs at renowned institutions including Columbia University, the International Institute for Management Development in Lausanne, Switzerland, the London Business School, and INSEAD Business School in Fontainebleau, France.

* Source: Worldwide in vitro diagnostic laboratory automation market review (excluding Japan) 2013 estimate. Report generated by independent research company in May 2014.
**Source: Siemens Healthcare Diagnostics shipment and orders reports, March 2016.
On account of certain regional limitations of sales rights and service availability, we cannot guarantee that the services described in this article are available worldwide. Please contact your local Siemens organization to get more information.
More on the subject:
More on companies: