An international impact on immunoassay
Snibe, the Shenzhen New Industries Biomedical Engineering Company Ltd., is a leading Chinese biomedical technology company dedicated to developing and manufacturing clinical laboratory equipment and in vitro reagents. Founded 18 years ago and a growing force in the Chinese market, the firm is based in Shenzhen, China's fourth largest city, situated in Guangdong Province.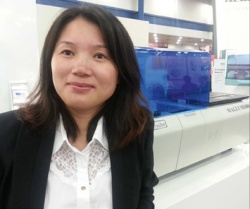 Driven also by subsidies as part of healthcare reform, SNIBE's domestic market includes hospitals in all categories and includes III-A hospitals in Beijing and Shanghai, for example. Currently, 2,500 of the firm's installations are operating in over 80 countries, explained its vice Managing Director Lucy Liu, when at the recent AACC (American Association for Clinical Chemistry) Clinical Lab Expo in Houston, the large annual tradeshow that presents innovative products from all over the world. SNIBE, she explained, is now placing an increasing emphasis on the further internationalisation; AACC and Medica will play a key role in that strategy. In Houston, Daniela Zimmermann of European Hospital asked Lucy Liu to describe the company and range of products.
Lucy Liu: 'Snibe was established in 1995. During those past 18 years, our company has focused on immunoassays. In 2008, we were the first to successfully develop fully automated chemiluminescent immunoassay machine and reagents. Today we supply a full product portfolio for immunology, biochemistry and electrolyte. This covers all needs of in-house and external clinical laboratories. Our Maglumi range of IVD equipment includes five models of various sizes and throughput requirements for all sizes of hospitals and comes with an integrated system approach.
'Our line of reagents covers more than a hundred parameters, most of them were developed based on needs of customers communicated to us – including kidney function, hepatitis, allergen, drug monitoring, infectious diseases, tumour markers and many more. Every year we produce approximately 1,000,000 reagent kits, 1,500 automated immunoassay units and 1,000 automated chemistry units.
'We are the only chemiluminescent immunoassay system manufacturer that produces the family of instruments as well as dedicated reagent kits, with a huge range of parameters. Our complete reagent kits integrate calibrators and internal control. We apply the most advanced nano magnetic microbeads as key separation material for the chemiluminescence system. We use the most advanced synthesised small-molecule organic compound as markers.'
Products offered in Europe
'Our exports focus for Europe is on immunoassay – the Maglumi 600, Maglumi 1000, 2000 and 2000 Plus. We have started, rather recently, and are now in the process of promoting the brand. We work with distributors; we may think of setting up a subsidiary at some later stage. Currently, we export to 18 countries through distributors – for example, DiaSystem Scandinavia AB in Sweden, Medical Systems S.p.A. in Italy, RAL Técnica para el laboratorio,s.a. in Spain, Labteh export-import doo in Serbia.
'At AACC in Houston this year, we presented our Maglumi 600 and 4000. Maglumi 600 is what we call a Super POCT – it lets you perform tests with all roughly 100 parameters on this compact machine. It's perfectly suited, for example, for emergency departments, in small hospitals and small labs.'
R&D team achievements
'The leader of our research team, Dr Rao Wei, is also the Chairman of the Board. Dr Rao is the first researcher worldwide to propose that organic monomers and inorganic nano particles can be compounded at molecular level. On this basis, the expert developed a new composite material – the third-generation nano-composite magnetic beads, a breakthrough innovation. Applying these beads and enzyme immunoassay, as well as small organic molecular labelling technology, Dr Rao developed and industrialised the quantitative immunoassay system that integrates the magnetic separation technique and flash chemiluminescence, filling a gap in the Chinese IVD industry.'
In the pipeline
'Our research and development department is working on further parameters to complement this range; this includes markers such as HE4 for ovary cancer, IA-2 for diabetes, as well as IGF-II, HIV and Syphilis. We collect regional data for example from India and Africa to identify likely development candidates for the needs of individual markets. In addition to our existing research unit in China, which collaborates with the University of Shenzhen, we may install R&D centres in further regions of the world.'
The company mission
'Our overall aim is to improve the life for patients at a global scale– through innovative diagnostic tools and at reasonable cost. We intend to become, within five to ten years, the major international supplier for immunoassay worldwide.'
Chemiluminescent Immunoassay (CLIA)
CLIA uses two techniques: a labelling technology that determines reaction mode and a separation technology that determines the sensitivity, accuracy and precision of the reagents.

Snibe milestones
1995 Founded in Shenzhen
1997 Developed enzyme-linked immunoassay system Magimuzyme
2002 Received Shenzhen High-Tech Enterprise award
2005 Developed semi-automated chemiluminescent immunoassay analyser and dedicated reagent
kits. Received 'Shenzhen Science and Technology Progress' award
2007 TUV certification ISO 9001, ISO 13485; Received recognition 'National High-Tech
Industrialization Demonstration Project'
2008 Developed China's first fully automated chemiluminescence analyser and dedicated kits
2009 Received recognition 'National High-Tech Enterprise'
2010 Launched automated chemiluminescent analyser and dedicated kits
2012 Developed China's first Serum Workstation Area IBE 6000, an integrated system that can
load 320 samples at one time.
More on the subject:
More on companies: