Advancing individualised therapies
The decoding of the genome has made it possible for molecular biology specialists to detect predispositions for illnesses and treat them accordingly.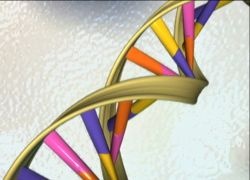 Family history, belonging to a certain group of people and a patient's individual status, require personalised treatment. Gender, often underestimated, is an important psychobiological variable. However, particularly in those with chronic diseases, men and women are still treated the same, despite documentation that there are gender specific differences regarding morbidity and mortality, as well as to the uptake of medical services available.
To better understand this, and consider it when treating patients, in November 2003, Charité University Hospital, in Berlin, founded the first Centre for Gender in Medicine. Professor Vera Regitz-Zagrosek MD is its spokeswoman. One research project at the centre examines the different manifestation of myocardial hypertrophy in men and women, where oestrogens, expression of contractile proteins, regulation of angiogenesis, and other metabolic processes have an effect. Apart from the Charité, another 11 working groups are involved in these projects, based at the German Heart Institute and at the Max Delbrück Centre for Molecular Medicine, both in Berlin.
Molecular technology enables individualised diagnostics and therapy
During a recent molecular medicine conference held by the Medicine Technology and & Pharma Forum, in Nuremberg, Professor Ivar Roots MD, of the Institute of Clinical Pharmacology at Charité, said: 'The prerequisites for future success in pharmacogenetics, as an important aspect of molecular medicine, are simple and cheap genotyping procedures. We particularly need methods of information that make the knowledge, which we already have, available to doctors treating patients.'
Pharmacogenetics investigates the influence of genetic factors on the effects of medication. Genetic preconditions can change the effectiveness of medication, for instance, in the treatment of asthma, hypertonia and cancer. There are often big differences in the occurrence of genetic variances within different ethnic groups. For this reason, Prof. Roots is lobbying for the inclusion of pharmacogenetic concepts at when new drugs are being developed.
One aspect of the use of personalised medicine is the adaptation of drug therapy to the patient's individual type of metabolism. During the conference, Dr Andreas Görtz of Roche Diagnostics, explained: 'Different abilities in metabolising drugs can lead to undesired side effects, as well as to the drug not having any effects at all.' He also mentioned that there are an annual 16,000 deaths in Germany alone, that could be attributed to the side effects of medication.
Thus a lot of work is being put into fast and cost-effective geno- and phenotyping. Professor Bernhard Wolf MD and Martin Brischwein MD, of the Heinz Nixdorf Chair for Medical Electronics, Technical University Munich, are currently working on in-vitro resistance testing of patients own tumour cells, so that customised and cost-effective medication can be used in therapy.
Chip laboratory systems manufactured by Siemens and General Electric are other fast and reliable ways of DNA examination or whole genome amplification (WGA). This new method was introduced at the conference by Qiagen GmbH, Hilden. The method uses isothermal strand-displacement technology, which, unlike PCR-based methods, promises '...a very even duplication across the whole of the genome, lowest error rates and large fragment sizes'.
Dr Christoph Petry of Diagnostics Research Germany at Bayer Healthcare in Leverkusen, reminded us that depending on indication, 20-80% of breast cancer patients do not respond to currently available medication. The firm is developing predictive tests for all the available, potentially effective, therapies, to determine the likelihood of a patient relapsing and the best treatment strategy. 'We have already identified diagnostic algorithms, based on RNA expression in the tumour, for several therapies. In some cases these were successfully verified,' he said.
Bayer is also working on an array technology, based on planar waveguides. Without amplification, DNA and RNA are detected directly on the analytes. With this, diagnostic tests could be carried out in parallel and cheaply.
Telemedical care - Philips Medical Systems has developed Motiva, an interactive communication platform for the long-term monitoring and care of discharged patients or those with chronic illnesses (cardiac, respiratory). Due to be marketed shortly, Motiva networks a patient with doctor and carers via TV and a box that automatically transmits vital signs to medics.
In a long-term study of patients in Great Britain, the Netherlands and Germany, Philips, and medical partners, showed that telemedicine reduced mortality in patients with heart insufficiency by over 25%. More than 90% of participants confirmed that the system made them feel safer.
According to a World Health Report, 70% of healthcare costs in Europe arise from chronic illnesses. It is hoped that telemedical monitoring will reduce those costs significantly.