Advanced melanoma
Report: Ian Mason
An increase in survival in metastatic melanoma – the cancer with the most rapidly increasing incidence across the EU – has been shown for the first time in a major international study by researchers from across Europe. The results showed that patients who received a novel monoclonal antibody called ipilimumab lived 34% longer than control patients given gp100 peptide vaccine.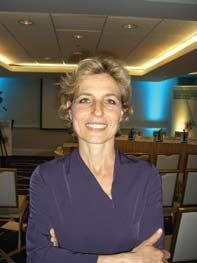 The study, a highlight of this year's ASCO (American Society for Clinical Oncology) Congress, was simultaneously published in the New England Journal of Medicine (5/6/10. www.nejm.org).
Triallist Dr Caroline Robert, of the Cancer Centre Institut Gustave Roussy, France, reported that, after two years, 22% and 24% of patients in the two ipilimumab arms of the study were alive, compared with 14% in the control arm.
Ipilimumab works by inhibiting cytotoxic T-lymphocyte-associated antigen 4 (CTLA4) a physiological brake on the immune system, Dr Robert explained. 'Releasing' this brake activates T-cells, which can then attack tumour cells.
'This is the first agent to show a survival benefit in advanced melanoma – a significant number of long-term responders have been observed,' she pointed out. An unusual feature of this antibody treatment is that skin lesions initially can increase in size as they become flooded with T-cells. 'Patients need to be warned that this can happen, because they can be quite alarmed by the sudden increase in tumour size,' said Dr Robert.
Though ipilimumab is not yet licensed, compassionate use programmes have been instigated in both the USA and Europe. Treatment-related adverse events can include gastrointestinal toxicity, hepatotoxicity,
endocrinopathy and neuropathy. A management algorithm has been developed. Since implementation of these guidelines there have been no serious problems or treatment-related deaths, Dr Robert said.
Ipilimumbab trials are underway in both first-line and adjuvant settings, as well as in other tumour types (lung and prostate cancers).
Commenting on the results, Professor Alexander Eggermont, Erasmus University Medical Centre, Rotterdam, the Netherlands, said that during 25 years of treating melanoma he had never previously seen any melanoma trial with this level of survival benefit.
'To see a trial with this magnitude of difference in patients who already have progressed on chemotherapy was a pleasant surprise. The likelihood that this drug will ultimately be used in first line treatment is now very great.'