Acuson P10 — the world's smallest ultrasound device
The Acuson P10 is a new portable ultrasound device, developed and manufactured by Siemens Medical Solutions. The new system in the size of a Blackberry embodies Point of Care Testing (POCT) abilities: It weighs a little more than 700 grams and could be used for earliest possible diagnostics in an intensive care unit, ambulance or medical helicopter, providing physicians with valuable information about their patients' condition.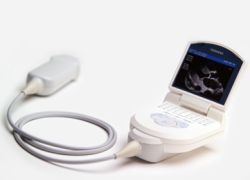 The Acuson P10 system is the world's smallest ultrasound device. It is equipped with a touch-screen LCD display that measures 3.7 inches diagonally, allowing easy menu-navigation similar to a Personal Digital Assistant (PDA). Designed for diagnostic use in emergency medicine, cardiology and obestetrics, a lithium ion battery enables approximately one hour of continuous scanning.
"Instead of having to rush the patient to the technology, P10 brings the technology to the patient, which can reduce critical minutes, particularly when a patient is in cardiac distress or with trauma patients, who have multiple injuries," explains Klaus Hambuechen, head of the Ultrasound Division of Siemens Medical Solutions.
The Acuson P10's emergency applications include FAST (Focused Abdominal Sonography for Trauma) for detecting fluid, determining cardiac activity and pericardial effusion as well as for detecting abdominal aortic aneurysms and performing pelvic exams.
The device can also determine fetal viability, fetal positioning, amniotic fluid volume, bleeding and miscarriage.
"The flexibility and portability of the P10 mark significant changes in the way diagnostic and emergency care are administered, changes that could alter the face of the physical exam and, ultimately, lead to better patient outcomes," concludes Klaus Hambuechen.
More on the subject:
More on companies: