A novel PET tracer for early detection of Alzheimers
Amyloidb (Ab) plaque formation is a hallmark of Alzheimers disease (AD) and precedes the onset of dementia. Australian researchers reported the first data on the validity in humans of a new PET tracer binding to Ab. Their data suggest that 18F-BAY94-9172 of Bayer Schering Pharma AG can reliably detect Ab deposition and thereby aid early diagnosis, differential diagnosis, and therapeutic monitoring in AD.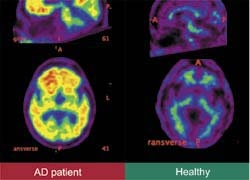 At present, Alzheimer's disease can only be diagnosed at an advanced stage, i.e. when the patient is already suffering from distinct cognitive impairments. Moreover, the development of novel, improved therapies for Alzheimer's will greatly benefit from in-vivo imaging procedures that can track the pathology of the disease at very early stages.
Bayer Schering Pharma AG researches and develops new, innovative diagnostic agents – not only for CT and MRI, but also for molecular imaging. Research in this field is focused on the development of tracers for the early diagnosis of tumours and follow-up cancer treatment, as well as neurodegenerative disorders like Alzheimer's.
'We are very happy that early clinical research studies with our most advanced PET tracer have been successful,' said Dr Ludger Dinkelborg, Head of PET Research at Bayer Schering Pharma. 18F-BAY94-9172 was studied in 15 patients with mild AD, 15 healthy controls, and five patients with a non-amyloid degenerative dementia (frontotemporal lobar degeneration, FTLD). The novel PET tracer was shown to be able to discriminate between AD, FTLD and healthy controls. Moreover, binding of 18F-BAY94-9172 matched the reported post-mortem distribution of Ab plaques. The detection of beta-amyloid in the brain would enable physicians to exclude Alzheimer's in case of negative scans, or to establish the diagnosis in case of positive scans.'
Based on these results, the company will start the clinical development of 18F-BAY94-9172 this year.
'Thanks to molecular imaging, an early and precise diagnosis of, for example, Alzheimer's or certain forms of cancer, is becoming very likely. We are hopeful that it will become a routine hospital procedure in less than 10 years,' Dr Dinkelborg said. The development of molecular imaging tracers is a complex iterative process that requires close co-operation between interdisciplinary preclinical and clinical teams. 'Bayer Schering Pharma is therefore collaborating with a worldwide network of partners from the biotech field, academia, pharmaceutical companies and manufacturers of imaging devices,' he added. 'Most recently, for example, with four other partners from German industry and the German government, we announced a joint investment of €900 million in molecular imaging research. This Innovation Alliance on Molecular Imaging will provide funding for joint projects involving the research and industry sectors. The aim is to develop new tracers, devices and software.'
More on the subject:
More on companies: