A new, multi-purpose interactive multimedia system
Currently used in pilot projects in the UK and the Netherlands, the new CareServant system from Philips, is an interactive multimedia system for use by hospital patients as well as staff.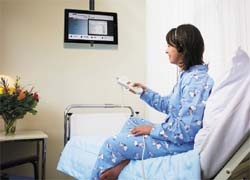 Coming in two versions — touch screen or interactive TV with control unit — the single platform enables access to information, communication and entertainment services; so patients can watch television and videos, access the internet, listen to music, make phone calls or play games. They can also obtain information about the clinic, answer queries about their own condition, or simply request services or order a meal.
Hospital staff also can access the CareServant at the point of care, to check medical data or they can send messages to patients. An additional asset is that the system can be set to switch off at a set time, for example when used in children's wards.
For safe identification two options are available: a password or an RFID smartcard. Also, if a patient is relocated and identifies him or herself at the new location all the individual's patient data is immediately transferred without staff intervention.
Among added services: a link to the hospital's prepay or invoicing system.
More on the subject:
More on companies: