A new cutting mode for TUR-P
Dry Cut, a new cutting mode produced specifically for transurethral resection of the prostate (TUR-P), has been launched by Erbe Elektromedizin, of Tubingen, Germany. This, with High Cut and Auto Cut, means that Erbes VIO System now offers the entire range of cutting qualities needed for TUR-P, TUR-B and TUV-P procedures, the firm reports.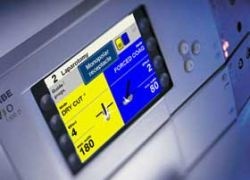 The Dry Cut mode minimises bleeding during TUR-P and effective coagulation of vessels during cutting means the risk of absorption of irrigating fluid (TUR syndrome) is also potentially reduced, the firm points out. 'Visualisation at the surgical site remains clear for an extended period, due to the limited formation of gas bubbles during cutting. In addition, reliable haemostasis significantly reduces procedure times, as repeat coagulations are rarely required. Automatic power regulation produces a maximum effect with minimal power output. Adjacent structures are spared as much as possible and wear and tear of the instruments are reduced.'

'These qualities are not achieved at the cost of an increased energy output. The automatic power regulation by the VIO electrosurgical generators keeps power output low while still achieving the best possible haemostasis,' Erbe adds. 'Just as the VIO System can be configured for urological procedures with special software and output sockets, the system also can be individually customised for use in all other surgical specialities,

The Erbe BiClamp
The firm has also launched a new instrument for the safe coagulation of vascularised tissue structures, such as the mesentery, peritoneum or omentum prior to cutting. Erbe reports that preparation, dissection and supply of individual vessels usually can be dispensed with, because coagulation is quick and effective. The procedure can be carried out during open surgery as well as laparoscopy. The Erbe VIO System supports BiClamp via specific software and hardware.
Tissue to be separated is grasped by the branches of the BiClamp and coagulated. The VIO software provides effective waveforms and voltages for an optimal coagulation result. The patented Auto Stop function automatically halts coagulation while ensuring safe haemostasis and thereby preventing lateral thermal damage. The instrument is then opened and tissue within the visibly coagulated area is separated mechanically. In the case of highly vascular structures it may be helpful to carry out two BiClamp coagulations, one next to the other, and then to separate the tissue between the coagulation seams, the firm adds.

'Coagulation with BiClamp is so effective that an additional ligature or a supplementary conventional coagulation is often not required,' Erbe concludes.