A little revolution in sonography
Until recently liver biopsies were performed to stage hepatic fibrosis in order to identify the suitable therapy. 'Since any intervention in the human body is associated with risks – haemorrhage and infection for example – we have long been looking for an alternative method to determine liver tissue elasticity. Today shear wave elastography is exactly such a method,' says Professor Christoph F Dietrich MD, Medical Director of Clinic II at Caritas Hospital in Bad Mergentheim, Germany.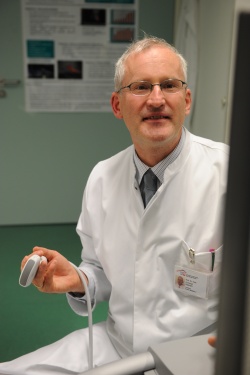 Shear wave technology uses not only the b-mode image, which is based on information provided by the longitudinal ultrasound waves as they travel through the tissue with a speed of around 1.560 metres per second, but also at the transverse shear waves. The propagation of the shear waves in the tissue correlates to tissue elasticity: wave velocity is proportional to tissue elasticity. Consequently, the propagation velocity in fibrotic tissue is higher than in healthy liver parenchyma. Currently, there are four different elastography procedures.
Fibroscan, also called elastometry, is the most widely used procedure, although it does not generate a typical ultrasound image. Acoustic Radiation Force Impulse Imaging (ARFI) provides a conventional ultrasound image. Shear wave elastography, introduced in 2009 by SuperSonic's Aixplorer system, is the most recent and most innovative type of elastography.
'The first two procedures have been comprehensively evaluated in the research literature. The third type, however, is based on shear waves and has the advantage of offering a high processing speed due to superfast processors. Consequently, the results are potentially better in 2D and 3D ultrasound,' says Dietrich, who is using and researching this method in his hospital in Bad Mergentheim. 'Unlike the competing procedure, the compressional elastography, which measures tissue elasticity based on the pressure applied via the transducer, the results generated by the Aixplorer show a comparability of about 90 percent as soon as identical parameters are being compared,' he adds.
Professor Dietrich believes the Aixplorer is a little revolution in sonography. While it might still be in its initial stages, it does show enormous potential as a non-invasive imaging method that can provide information on several other tissue characteristics. Moreover initial results on shear wave elastography exams of kidney, spleen and pancreas are promising, albeit requiring further research. Professor Dietrich: 'With regard to the pancreas, real-time elastography has up to now a higher value, since we only have to find out whether a certain tissue region is harder or softer compared to surrounding tissue to be able to tell whether a tumour is present or not. Thus colour coding with blue indicating hard tissue and red indicating soft tissue is sufficient.'
Profile:
A senior consultant at Caritas Hospital in Bad Mergentheim, Germany, since 2002, Christoph Frank Dietrich is also the current President of the European Federation of Societies for Ultrasound in Medicine and Biology (EFSUMB). With a scholarship from the German National Academic Foundation, he studied at the Medical University Hannover and, in 1988, passed the US-American FMGEMS exam. A specialist physician for internal medicine since 1997, he received his habilitation in 1999. Professor Dietrich is also a certified specialist in several other disciplines such as gastroenterology