A breakthrough in antibiotic resistance
An 'Achilles heel' in the defensive barrier surrounding drug-resistant bacterial cells has been identified by a team of scientists at the University of East Anglia (UEA) in Norwich, UK.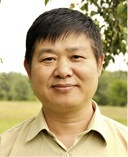 The researchers believe their findings pave the way for a new wave of drugs that kill superbugs by bringing down their defensive walls rather than attacking the bacteria themselves.
Group leader Changjiang Dong, Professor of Molecular Medicine at UEA's Norwich Medical School, says that potentially, in the future, bacteria may not develop drug-resistance at all. The discovery coincides with a warning from the World Health Organization that antibiotic-resistance in bacteria is spreading globally amid fears that even common infections, which have been treatable for many years, may once again have the potential to prove fatal.
The research team investigated Gram-negative bacteria, a class particularly resistant to antibiotics because of the cells' impermeable lipid-based outer membrane, which acts as a defensive barrier against attacks from the human immune system and antibiotics. Thus the pathogenic bacteria can survive, but removing that barrier increases vulnerability and they die. Up to now little has been known about exactly how the defensive barrier is constructed but, Dong explained: 'We have identified the path and gate used by the bacteria to transport the barrier building blocks, called lipopolysaccharides, to the outer surface. Importantly, we have demonstrated that the bacteria would die if the gate were locked.
'The number of super-bugs are increasing at an unexpected rate. This research provides the platform for urgently needed new generation drugs,' he added.
Published in the journal Nature in June, the study, 'Structural basis for outer membrane lipopolysaccharide insertion' was funded by the Wellcome Trust, with research collaborators including the University of St Andrews; Dr Neil Paterson of Diamond Light Source (UK); Dr Phillip Stansfield at the University of Oxford, and Professor Wenjan Wang of Sun Yat-sen University, China.
Lead author, PhD student Haohao Dong, said: 'The really exciting thing about this research is that new drugs will specifically target the protective barrier around the bacteria, rather than the bacteria itself. Because new drugs will not need to enter the bacteria itself, we hope that the bacteria will not be able to develop drug resistance in future.'
Profile:
Changjiang Dong is Professor of Molecular Medicine at Norwich Medical School of University of East Anglia, UK. He was a senior scientist at the University of St Andrews (2003-2008) before setting up his research group as a Wellcome Trust career development fellow.
Since 2012 he has chaired molecular medicine at Norwich Medical School, where his research focuses on emerging infection pathogens, particularly multidrug resistant Gram-negative bacteria, arenaviruses and bunyaviruses, of which his group is interested in the outer membrane biogenesis and virulent outer membrane proteins.
By combining protein crystallography, in vitro and in vivo assays, fragment chemical screening and chemical probes, his group is trying to understand the biological processes and helping towards novel drug discoveries.