A 7-Tesla in clinical diagnostics?
Essen researchers say YES!
Most of the 30 institutes around the world that work with a 7-Tesla MRI scanner do not focus on answering questions about the clinical benefit of this field strength; their efforts revolve around the brain and neurosciences. One exception is the Erwin L Hahn, at the Institute for Magnetic Resonance Imaging, which is based at the Zollverein Coal Mine Industrial Complex, a World Heritage Site in Essen, Germany, where mining underground was the aim. Here, researchers led by the Institute's Director, Professor Mark E Ladd, are now looking into the interior of the human body — in its entirety.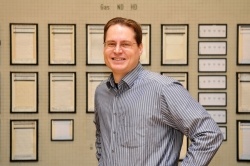 'The participants of our working group have a radiology background, which is why our primary interest is the use of this technology in clinical diagnostics,' explained Prof. Ladd. 'We want to produce images of the entire body, so we are currently working on antennae and coils that facilitate the acquisition of images of the heart, liver or kidneys with as yet unmatched image quality.' One practical example is the development of a reduced mammography coil, to answer the question as to improved specificity of the 7 Tesla MRI scan for the detection of breast cancer. Compared to the 1.5-T the 7-T generates more informative and possibly better images in this area. 'However, the essential question here is also: Does this image have added value; will it lead to a different type of therapy and a better outcome for the patient? Finding an answer to this question is much more difficult than the actual image acquisition itself.'
In the field of cardiology the researchers are still at the beginning. Although there are specially developed coils and antennae for cardiac imaging, they are also confronted with another challenge, he said. 'We are currently dealing with a technical problem, the triggering of the ECG, which does not work reliably with the 7-Tesla and which leads to an increase in artefacts.'
A further promising area of application is the musculoskeletal field. Certain types of arthritis can be detected and treated at an early stage through cartilage assessment.
Despite a few teething problems the fact that the entire torso can be scanned with the help of 7-T technology is an impressive milestone and belies those sceptics who, until just a few years ago, argued that it would be impossible to scan the torso with this type of field strength.
Alzheimer's
Neurological studies obviously also play an important part in their work. For example, one project is investigating possible improvements in treatment for multiple sclerosis. Until now, patients have received the same type of therapy, despite suffering different forms of the disease; with the higher field strength there is hope for a better differentiation of the treatment response. 'Another particularly exciting area is research into dementia,' Prof. Ladd pointed out. 'We are already able to document dementia-related changes via MRI, but unfortunately at too late a stage. With 7-Tesla we can aim to differentiate patients with a mild, cognitive impairment and to filter out those who are likely to develop real dementia later on, although there is no treatment for Alzheimer's as yet. However, if this becomes available in the not too distant future, we need to be able to decide who needs to receive it.'
A licence for 7-T is within our grasp
Despite the advances in, and advantages of, this technology, 7-Tesla MRI scanners are not yet licensed as medical equipment. However, according to Prof. Ladd this can only be a matter of time, as both clinicians and manufacturers have a vested interest in securing a licence – initially for neurological and musculoskeletal applications. It is conceivable that, at least in the USA, a licence could be achieved within the next two years.
A further problem lies in the structural requirements that such an installation brings: In the 'Krupp' City of Essen 430 tons of steel were used to screen the magnetic field – which required a huge amount of space.
Finally, the success of this technology depends on acceptance on the part of the medical insurers.
The researchers within the numerous project teams at the Zeche Zollverein are not fazed and least of all put off by these adversities. Around 25 ambitious researchers from Germany and the Netherlands work on the advancement, improvement and evaluation of this procedure.