MANAGEMENT
Presented and organised by ECR 2009 and European Hospital
Accreditation and standards of Excellence in Europe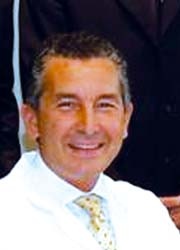 Leonardo la Pietra MD MBA, Chief Medical Officer at the European Institute of Oncology (EIO), Chairman of the Italian Medical Records Association, and of the Italian Association of Risks in Healthcare, as well as the Italian Association of Medical Managers).
In 2002 the EIO was the first Cancer Centre to be accredited by the Joint Commission International. In the same year, the path that led to the ISO 9001:2000 Certification of the Laboratory Medicine Unit and the Ematoncology Laboratory was completed. In 2006, the Certification was extended to the Pharmacy Service, the Quality and Accreditation Service and the Division of Ematoncology. The ISO Certification creates a framework, a model of work organisation that allows control of the primary processes and processes that support clinical activity.
In late 2003, IEO created its annual Quality Award for staff (the 5th was awarded in 2007). In 2003, IEO was also the only healthcare group to receive the 'Best Work Place Italia' award by the Great Place to Work — and received it again in 2005 and 2006.
In 2007, IEO obtained the three 'pink stamps' from the National Observatory on Women's Health for its high and specific dedication to women in-patients. In the same year came the International Hospital Benchmarking Award (the EIO was the only from Europe among the six winners) for international 'best practice' in cancer patients' treatment.
How can one institution scoop so many laurels? Dr la Pietra will focus on this research and care organisation that is devoted to oncology, on a basis of full integration between the different areas of the fight against cancer: laboratory and clinical research, prevention, diagnosis, treatment, and training, as well as its new principle in cancer treatment by shifting the focus from the disease to the patient.