50th celebration of the birth of cardiac pacemakers
Arne Larsson was only 42 years old when his heart began to falter. In the late '50s it was virtually a death sentence in Sweden. But Arne saw lived to celebrate the millennium. In 1958, he had become the first patient to receive an artificial pacemaker. He had received 26 of these devices before his death in 2001, aged 86.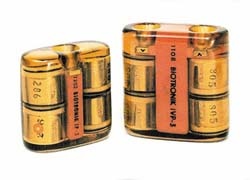 Today, in Germany alone, over a quarter of a million people carry such devices.
Over 50 years, pacemakers have saved innumerable lives and, since the first generation pacemakers, the technology has become increasingly sophisticated, outright intelligent – and features vastly improved battery lifetimes. Today, a battery is replaced on average every eight years. Modern pacemakers are programmable and adjust to a patient's stress level. Innovations in telemetrics contributed significantly to pacemaker progress: since 1979 battery status and electrode functions can be checked non-invasively. Modern devices record different kinds of data, transmitted to a doctor's mobile phone, for example.
In 1980 the first cardioverter-defibrillators with electrical shock function were implanted to prevent sudden cardiac arrest. Whether tachycardia or frequent ventricular fibrillation, the electrical impulse usually manages to restore normal heart rates. More recently, cardiac resynchronisation therapy (CRT) was developed. This involves electrodes being placed in both ventricles to synchronise heart muscle contraction in all four cavities. The heart can then resume normal activity.