40 years of CT scanning
Forty years ago an article was published that would change medical practice. In the British Journal of Radiology, English electrical engineer Godfrey N Hounsfield described how he had made a patient's brain visible non-invasively by evaluating a large number of X-ray images of the skull taken from different directions.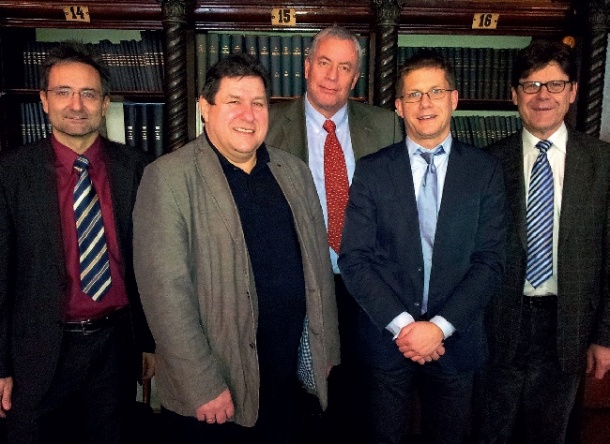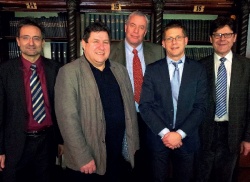 This was totally new – the birth of Computed Tomography (CT). 'It's possible that this technique opens a new chapter in X-ray diagnosis,' the engineer speculated. What an understatement. The new procedure revolutionised medicine. Two years later (1975) he was elected to the Royal Society and, in 1976, was appointed Commander of the British Empire. Three years on, he shared the Nobel Prize for Physiology or Medicine with Allan McLeod Cormack for his part in developing the diagnostic technique of X-ray computed tomography (CT). In 1981 the inventor became Sir Godfrey Hounsfield CBE FRS, following his knighthood by Queen Elizabeth ll. He died in 2004. 'Modern diagnosis of carotid artery disease, as well as diagnostic confirmation of acute stroke, is unimaginable without CT angiography these days,' Professor Christian Loewe MD, at the Department of Cardiovascular and Interventional Radiology, Radiodiagnostics Clinic, Medical University of Vienna at a 40 years of CT scanning press conference held in the Austrian Radiological Society.
'It's possible,' he pointed out, 'to visualise and quantify stenosis of the carotid arteries and occlusion in the cerebral arteries and then to plan the adequate treatment in just a few seconds of examination time, without the need for arterial puncture in the groin and with high resolution and diagnostic safety.' Technological advancement has not only increased the temporal and spatial resolution of CT angiography but also significantly reduced the exposure to X-rays from CT scanning. This has also made CT angiography the method of choice to investigate aortic disease and aortoiliac occlusive disease. 'Modern endovascular treatment procedures for aortic aneurysms via vascular endoprosthesis (stent graft) would be impossible without the above mentioned advances in CT angiography,' the professor emphasised.
'The modern procedures available now also facilitate imaging of the coronary arteries and any changes within them via modern CT scanning in mere seconds.' The high validity of this technique, particularly to exclude coronary artery disease (CHD), was confirmed in numerous national and international publications. Only for patients with a clear clinical indication for the presence of CHD does CT scanning currently not deliver added value, the Austrian radiologist pointed out. For many years, CT scanning has also played a central role in the diagnosis, treatment planning and monitoring of cancer patients. 'Modern multi-detector CT scanners produce images of outstanding quality and resolution and deliver the relevant information that doctors require for their treatment strategies and therefore for the best possible care of cancer patients,' explained Professor Reto Bale, from the of Micro-invasive Therapy (SIP) division of the Department of Radiology, Innsbruck Medical University.
'The number of systematic diagnostic and therapeutic CT interventions in oncology has increased substantially over the last few years. A histologic examination is the gold standard of diagnostic confirmation and the basis of any oncological treatment.' Lung and bone tumours are particularly inaccessible for sonographically precise puncture and are routinely biopsied percutaneously with CT help. CT-navigated thermal ablation procedures, such as radiofrequency ablation, microwave ablation and cryotherapy, are increasingly used to treat liver, kidney, bone and lung cancers. Combined with modern 3-D navigation systems these procedures facilitate local curative treatment of various tumours of up to 10 cm diameter and thus represent a minimally invasive addition, or alternative respectively, to surgical procedures. As an alternative to a colonoscopy, virtual endoscopy allows a quick evaluation of the entire colon using reconstructed 2-D and 3-D images.
A 'fly-thru' programme lets the radiologist see into the intestine as if he was carrying out a colonoscopy. In this way colonic polyps can be detected and examined non-invasively. Modern software also facilitates the automated 3-D reconstruction and determination of the size of lung and liver tumours. 'This allows us to recognise changes in the tissue and to more objectively assess these over time,' Prof. Bale explained, concluding his outline of CT applications in today's oncology.