3-in-one and multi-functional
The Flexavision F3 is a fully digital R/F system with portable FPD
Shimadzu has launched a new fully digital R/F system, the Flexavision F3, which has a portable dynamic flat panel detector (FPD) – making this a system suitable for fluoroscopic as well as radiographic applications.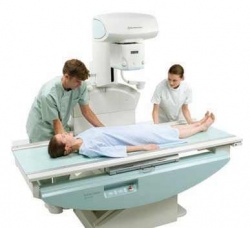 The FPD has a large field of view -- 35 x 43 cm -- and offers a multitude of examinations, from barium enema to gastrointestinal, non-vascular radiological interventions, urograms and other urinary tract contrast media acquisitions. General radiographic examinations of the thorax, pelvic region, extremities as well as for orthopaedic surgery purposes also can be performed easily, the manufacturer Shimadzu confirms.
The FPD is removable
The portable dynamic flat panel detector allows a wide range of R/F table examination, the manufacturer reports. 'Depending on the examination, it can be rotated from portrait to landscape format. Due to a built‐in hand‐grip and detachable cable, the FPD can be removed easily from the bucky tray to perform direct projections on and beside the table and at the bucky wall stand.' Wheelchair or bed-bound patients can also be examined safely and comfortably, the firm adds.
Versatility due to high flexibility
The device is compact, suits a multitude of R/F applications, and is reported to be patient and user-friendly. For example, Shimadzu says that angles required for cranial and caudal projections can easily be achieved using the oblique projection feature. 'To support thorax radiography, the X-ray tube can be extended up to 150 cm for video fluoroscopy (VF) and other R/F studies. Alternatively, it can be rotated by 180° for a projection onto a bucky wall stand. The high‐quality table allows jerk-free 1°‐positioning and helps to perform acquisitions even under difficult patient conditions.'
Due to flexible configuration options, the system also meets various clinical needs, for example by being converted from a basic R/F table to a multi-functional R/F examination room, the firm explains. 'Valuable options of configurations are an elevating table function, oblique projection unit, X‐ray tube swing‐out unit or X‐ray tube rotation unit combined with bucky wall stand and a ceiling mounted 2nd tube arm.

Patient care
An additional table elevation function and other features can also ensure the ease, comfort and safety of patients and operators.
High-res/low dose
'Digital imaging improves the representation of small, low-contrast structures and thus delivers brilliant X-ray images to the monitor, virtually in real-time. Shimadzu's high‐speed digital image processing technology effectively controls halation and the loss of shadow details, thereby instantly providing easy‐to‐view high‐quality images on the monitor display,' Shimadzu explains. 'These images contribute to keeping exposure low for patients – due to a removable grid, selectable filters for X-ray hardening and various modes for pulsed fluoroscopy, e.g. in paediatric and gynaecological examinations.'

More on the subject:
More on companies: