The benefits of point-of-care ultrasound
Rapid and accurate acquisition of basic diagnostic information through the innovative concept of point of care ultrasound can have significant benefits for patient outcome, costs, reducing mortality and medical-legal risk scenarios. These benefits of point-of-care (POC) ultrasound will be highlighted during a WFUMB session by Italian critical care physician Professor Luca Neri, founder and past president of WINFOCUS. He will outline how the concept can significantly empower feasibility, accuracy, efficacy and greater effectiveness of healthcare services, particularly when delivered to out- and in-patients in critical scenarios, Mark Nicholls reports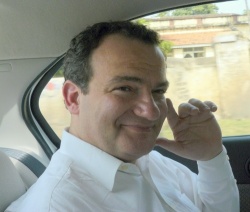 In the Learning Emergency Ultrasound session Professor Neri will detail how the POC concept has evolved and developed in the last decade. Speaking in advance, he explained, 'In the last decade, emergency point-of-care ultrasound, considered as an extension of the clinical examination at the patient's bedside or on the accident scene, has proved to be an extraordinary 'risk management' instrument that can improve the clinical and organisational outcomes of intra- and extra- hospital health emergency services.
'Its immediate and/or continuing use in the same point of access to the care, no longer confined only to departments or services specialised in diagnosis imaging, has increased the speed, effectiveness and efficiency of the health service in its fundamental moments: prevention, triage, diagnosis, treatment, monitoring and follow-up.'
More recently, to emphasise the effectiveness of the POC concept in every scenario that presents a critical management, the 'critical ultrasound' concept has developed from the 'emergency ultrasound' model.
Neri added: 'The scenarios become critical whenever there is a significant discrepancy between the patient's clinical status and the available technical, human and organisational resources, therefore increasing the performance gap risk for the user and the health provider.'
There are examples within hospitals; within emergency rooms and the emergency medicine wards, operating blocks and surgery units, intensive care units, acute care paediatrics and neonatal services. However, critical scenarios can include the emergency medical services (EMS) and the helicopter emergency medical services (HEMS), the natural, terrorist or military disasters, the isolated, austere and 'limited resources' contexts, and the local services of primary and rural care in general. 'In such contexts,' he pointed out, 'the rapid and accurate acquisition of basic diagnostic information and the ultrasound guidance of invasive procedures complement the traditional management protocols of the trauma, reducing, in the short and medium term, morbidity, mortality, hospital stay and waiting times, costs, and medical-legal risk in general.'
Critical ultrasound training is not only directed to imaging specialists within radiology, cardiology, gynaecology and gastroenterology, but to all health professionals working in critical scenarios, with particular attention to emergency unit doctors and surgeons, traumatologists, anaesthesiologists, intensive care doctors, paediatrics and nurses of critical areas in general, he added.
There are a number of factors that health professionals need to know when using emergency ultrasound, he said
In the early 90s the Focused Assessment with Sonography for Trauma (FAST) protocol emphasised how the concept that focused POC image acquisition, integrated with trauma management, could make life-saving decisions easier and faster by detecting free fluid collection in body cavities. That has since developed into other focused findings, such as identifying abnormal movements or irregular profiles, and led to other protocols that have helped improve patient outcomes.
However, to achieve these improved results and outcomes, health professionals need to acquire basic, multi-focused technical, clinical and organisational knowledge, skills and attitudes, he pointed out.
From the WFUMB session, Professor Neri believes health professionals will be able to take to their everyday practice a new, integrated clinical strategy that follows 'ABCDE' or 'Head-to-Toes' evaluation methods. Furthermore, he said, the enhancement of triage, diagnosis, therapy, monitoring, and patient follow up would allow 'a more rapid and effective problem-solving performance.'
The novel concept of 'critical' ultrasound has recently evolved thanks to the availability of high quality POC ultrasound devices, he said, and an increasing number of clinicians, across several disciplines, have developed ultrasound skills to take care of patients in 'critical' situations.
Such an approach benefits not only emergency and unstable patients, Prof. Neri added, but also could be adapted for use in the world's remote and developing regions.
Luca Neri
Emergency surgeon and critical care specialist Professor Luca Neri MD is Director of the Critical Ultrasound Programme at Niguarda Ca' Granda hospital in Milan, Italy and also works in the Helicopter Emergency Medical Service.
He is a founder and Past-President of WINFOCUS and the current Global Director of that organisation's UltraSound Continuing Medical Education (USCME) overseeing the international development of training, scientific and humanitarian activities, a role of lecturing and networking that takes him through dozens of countries annually.
The professor is also Managing Editor of the Critical Ultrasound Journal, a Visiting Professor at the University of Medicine, Iuliu Hatieganu, Cluj Napoca, and is on the Advisory Board of the Henry Ford Ultrasound University in Detroit.
At this year's WFUMB congress, Professor Neri is co-ordinator of the Emergency Ultrasound sessions on 26 August*, and will present the Learning Emergency Ultrasound in Session 4.
Professor Neri is co-ordinator of the Emergency Ultrasound session, August 26.
Further presentations: Learning Emergency Ultrasound, Session 4, 16:30-16:55, Hall H, and Emergency US of the Extremities, August 28, 08:55-09:20, Hall NO