2007 Congress will welcome radiologists to Vienna
The European Congress of Radiology (ECR) is a never-ending story of surprises, excitement, and success. Year after year, more scientists, radiologists eager to learn, and partners from industrial companies flock to this excellent meeting.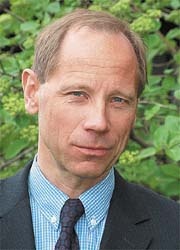 It is now recognised as one of the most innovative forums within the scientific community, setting new standards in IT solutions and advanced technology.

This year, with 16,000 delegates, saw the highest attendance ever - a 7% increase over 2005. Overall, numbers have grown by almost 20% since 2003. The statistics demonstrate the attraction of ECR to radiologists and other healthcare professionals who seek information and education.
And ECR 2007 is just around the corner! Its motto, 'Imaging Generations', refers to the unique position radiology and imaging methods have in providing healthcare and help to our patients. Moreover, it reflects the fact that several generations of radiologists are now making use of the most modern imaging technology and are themselves driving new developments. 'Imaging Generations' also underlines the growing need for the high-quality education provided by ECR.
Next year will offer more than 260 scientific and educational sessions, 800 proffered papers and almost 900 electronic scientific exhibits. Key international experts will share their knowledge and latest research findings in all fields of medical imaging. Presenters will again enjoy the most recent technologies, from abstract submission to onsite editing and uploading of their presentations, using EDIPS, ECR's user-friendly digital preview system.

One offer at ECR 2007 will be an excellent educational programme, with four state-of-the-art symposia; two categorical courses - a new one on Multidetector CT Made Easy, and the repeat course What I Should Know About Imaging for Staging Cancer?

There will be two mini courses on Women's Imaging and Molecular Imaging; a foundation course on cardiac radiology; two image interpretation quiz sessions; four interactive image teaching sessions; an interactive teaching course on 'Useful Signs in Imaging'; three interactive sessions on lung cancer, breast imaging and How to do a Successful Presentation with simultaneous translation from English to Chinese.

Also featured will be five ESR sessions: Challenges for European radiology; one EuroAIM session; one RTF - radiology trainees forum: highlighted lectures sessions, and four hands-on workshops on image-guided breast biopsy, experience vascular procedures using simulators, tips and tricks in radiofrequency ablation, and dancing with workstations.

An e-learning centre with the possibility for voluntary self-assessment will complement the formal lectures and interactive teaching programme. The hospital manager symposium, an EFOMP workshop, 19 satellite symposia and workshops will round off the programme.

Eminent radiologists have accepted the invitations to hold honorary lectures. William R. Brody, president of the Johns Hopkins University (Baltimore, USA), will present the Wilhelm Conrad Röntgen Honorary Lecture 'Healthcare and the Ford Model T: Unsafe at any Speed - How to make hospitals safer places for patients', Martine Rémy-Jardin from Lille, France, will present the Felix Fleischner Honorary Lecture 'Why thoracic imaging must evolve toward cardiothoracic imaging'. And the inaugural lecture 'Lessons from our European Motherlands: What we forgot on the boat trip across the Atlantic' will be given by Stephen Swensen, chairman of radiology and director of quality services at the Mayo Clinic, New York, USA.

Following a well-liked tradition, the congress will again welcome three nations within its special 'ECR Meets ...' programme, this year saluting China, the Czech Republic and Austria. And, anticipated as always, an outstanding and in many ways surprising social programme will help guests to relax in the welcoming atmosphere of traditional and modern Vienna. And let's not forget the newly designed and renovated Austria Centre, which will provide greater space and an attractive environment for teaching and enjoying the offerings of the new congress.

ECR 2007 will also underline its commitment to provide excellent education to young professionals. Continuing and expanding its Invest in the Youth programme, the congress provides financial help to 400 young radiologists from all over the world, with a focus on East European countries, who otherwise would be unable to visit the meeting and improve their knowledge.
Last but not least, ECR 2007 will be the second official congress of the ESR, a society open to all European radiologists and a unique opportunity to represent the scientific, educational and political needs of radiologists in Europe and worldwide.

It is my privilege and pleasure to welcome you to ECR 2007 in my home town of Vienna. Enjoy!