Ziehm Imaging expands partner network
Ziehm Imaging, provider of mobile X-ray based imaging systems (C-arms) and the French medical technology company Praxim announced a strategic partnership to utilize long established intraoperative 3D imaging technology for navigated surgery.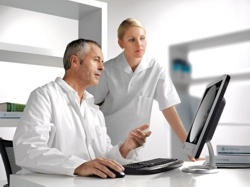 Through the integration of 3D imaging in navigation, operation processes and treatment possibilities in neurosurgery, orthopaedics and traumatology become safer and minimise risks both for the patient and the surgeon. With the Praxim partnership, Ziehm Imaging is continuing to expand its international cooperation network. These partnerships will enhance medical technology and increase their international market share.
The German-French medical technology cooperation is aimed towards improving navigated surgery using especially detailed imaging. For this purpose, Praxim has adapted its high-precision surgical navigation technology to the Ziehm NaviPort open interface on Ziehm Imaging C-arms. The intraoperative 3D imaging combined with a navigation system provides surgeons with optimal orientation during the operation,
meaning that risks can be minimised and operation standards can be improved. Trauma and orthopaedic surgery in particular benefit from especially detailled and highcontrast images that can, for example, visualise even tiny fragments of bone fractures. The particular precision of Ziehm Imaging mobile 3D imaging devices enable doctors to display even the finest of structures during surgery and to carry out the navigated operation particularly accurately. Initial successful clinical tests accomplished at the end of February at the Technical University (TU) in Munich confirmed the successful implementation of the cooperation project: "During the operation pedicle screws were placed in the lumber spine of the patient. This was very successful. The combination of intraoperative 3D imaging from Ziehm Imaging and the navigation system from Praxim made the perfect placement of the screws possible", said Prof. Dr. Maximilian Rudert from the TU Munich orthopaedic department. Ziehm Imaging is a technology leader in intraoperative x-ray based 2D and 3D imaging and works closely with doctors and leading companies in the industry. The company continuously seeks new partnerships that contribute to medical technological progress by promoting new innovations. "We are delighted with the Praxim cooperation. The French healthcare market in particular will benefit from the German-French cooperation", said Martin Herzmann, Director Global Marketing at Ziehm Imaging. Ziehm Imaging continues to establish itself as a technology leader in the European healthcare market. This includes numerous strategic partnerships with selected companies as well as the continual improvement of existing 2D and 3D imaging technologies. The market launch of the first products from the joint venture between Ziehm Imaging and Praxim is planned for May 2008.
More on the subject:
More on companies: