Article • Increase confidence in the operating theatre
Adapting to image guided surgery
In more than 21% of complex anatomical osteosynthesis procedures, an intraoperative improvement of the implant position or a revision of reduction has to be performed (Recum von, J. et al., Unfallchirurg 2012, 115:196-201, Die intraoperative 3D-C-Bogen-Anwendung. State of the art).
Image-guided surgery is gaining relevance as a method to increase confidence in these complex procedures. The goal is to enable clinicians to deliver high-quality care and manage less-invasive approaches to shorten hospital stays, which potentially improve patient outcomes. By utilising preferred, navigation-ready instruments from different implant companies, automatic registration of images for navigation and intraoperative 3-D control scans allow quick progress checks and documentation at all times. This, in turn, ensures efficient clinical workflows, contributing to increased accuracy and reduced X-ray exposure (Richter et. al., Cervical pedicle screws: conventional versus computer-assisted placement of cannulated screws. Spine (PhilaPa 1976). 2005 Oct 15;30(20):2280-7. And, Gebhard et al., Does computer assisted spine surgery reduce intraoperative radiation doses? Spine (PhilaPa1976). 2006 Aug 1;31(17).
For these demanding procedures in areas such as the cervical and upper thoracic spine, as well as for pelvic or minimally invasive surgeries, Ziehm Imaging partnered with leading surgical navigation providers to develop an interface that combines navigation systems and intraoperative 3-D imaging with the Ziehm Vision RFD 3D mobile C-arm.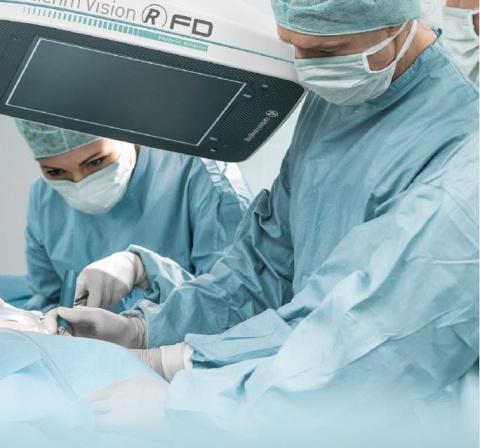 The Ziehm NaviPort navigation interface connects the C-arm seamlessly with the navigation system. A high-resolution 3-D dataset can be transferred automatically; real-time visualisation of the surgical instrument position can then be performed on the acquired dataset. This allows more accuracy during orthopaedics, trauma, and spinal procedures compared to conventional surgical techniques.
With the combination of advanced intraoperative 3-D imaging and navigated surgery, these complex procedures for accurate screw and implant positioning can be handled with greater confidence thanks to visual guidance requiring less fluoroscopic control. With image-guided surgery and intraoperative control scans, post-operative CT scans become obsolete. 'Moreover, the ability to perform intraoperative control scans enables us to significantly reduce the need for postoperative CT scans,' says Professor Christoph Josten, Orthopaedics, Trauma, and Reconstructive Surgeon at Leipzig University Hospital.
More on the subject:
More on companies: