Your map of anaesthesia
Dräger SmartPilot View is a software, which, for the first time, provides a two-dimensional representation of the current and the forecasted course of anaesthesia. Similar to a GPS device, this "map of anaesthesia" shows the anaesthetist at which stage of the anaesthesia the patient is. Like a pilot, the software supports the anaesthetist in optimally guiding the patient through the anaesthesia.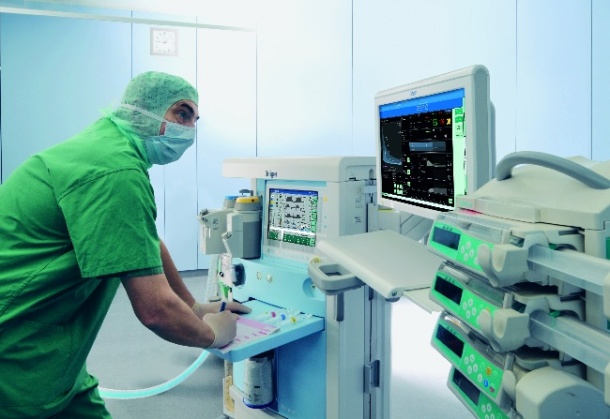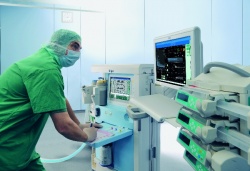 Dräger SmartPilot View is an assistance system, which supports anaesthetists in making decisions, but does not make decisions for them. The software is based on pharmacokinetic and pharmacodynamic patient models, which calculate and visualise the effects of analgesics (opioides) and sedatives (hypnotics). Up to now, it was not possible to visualise the interactions between these two substance groups and to show the anaesthetist at which stage of the anaesthesia the patient is and will be. In addition, the SmartPilot View gives an answer to the question: "What would happen if …". The software provides a preview of the calculated course – before the pharmaceuticals are applied to the patient. The program also displays the effects of the relaxants included in the anaesthesia with the corresponding time of occurrence.
Course of anaesthesia in two-dimensional representation
SmartPilot View displays all information required for controlling the anaesthesia at a glance: In addition to the measured parameters, for example pulse rate and blood pressure, the software also displays the chronological sequence of the applied pharmaceuticals and their effects in a two-dimensional representation. The idea of this representation is based on the cockpit of an aeroplane. This means that the anaesthetist sees precisely – like a pilot – at which calculated stage of the anaesthesia the patient is just now and what the prediction for the immediate future will be.

Advantages in theory and practice
SmartPilot View can support anaesthetists in previously detecting and preventing under dosing and overdosing – even if the anaesthesia is initiated intravenously, but then continued with volatile agents. In this scenario it would not even make a difference if the anaesthesia had been initiated manually via an injection. Event markers such as intubation, incision or repositioning enable the anaesthetist to document important events during the course of the anaesthesia.
For the theoretical training of anaesthetists-to-be, a training application based on the SmartPilot View can be used in the future. Similar to a flight simulator the PC-based software allows for simulating and practising courses of anaesthesia. Furthermore, there will also be the option to store the complete course of a real anaesthesia on a USB flash drive to transfer it and to play it back.
In clinical routine, the SmartPilot View operates with Dräger anaesthesia systems (Primus/Primus IE, Zeus/ZeusIE) and Dräger monitoring systems (Infinity Delta, Infinity C700 for IT and Infinity Explorer). In combination with specified syringe pumps (B. Braun Space or Dräger IVenus), the anaesthetist can use the full functionality of the software.