Worldwide healthcare launch of Clinell Sporicidal
A new way to help prevent hospital acquired infections
GAMA Healthcare Ltd, UK based infection-control specialists launched at Medica today the world's first cleaning, sterilising and disinfecting peracetic acid generating wipe. This innovative dry wipe, Clinell Sporicidal, has been developed by doctors for widespread use in the hospital environment. On contact with water peracetic acid, which impregnates the wipe, is activated instantly to the correct levels to kill a completely comprehensive spectrum of pathogenic microorganisms; Gram positive and negative bacteria, yeasts, mycobacteria, fungi and viruses, known to cause nosocomial infections. Of particular interest to all involved in the battle against hospital infection is its ability to destroy spores and spore forming bacteria such as Clostridium difficile.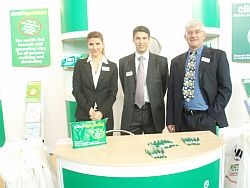 Designed for all purpose use Clinell Sporicidal offers an easier and safer option than the chemicals currently recommended to deal with spores such as chlorine and glutaraldehyde based compounds. "In water, the breakdown products of peracetic acid are hydrogen peroxide and acetic acid, which then form water, oxygen and carbon dioxide so no hazardous waste is produced" explained Adrian Fellows, Gama's R&D Director.
The one product for all pathogens approach simplifies infection control procedures for overworked hospital staff and also helps reduce costs. The wipes can be used on any surface and can also be used directly on fresh blood spills, which activate the wipe immediately without the need for water.
At the Gama Healthcare stand in Hall 6, K61, the complete range of Clinell products for improved hospital hygiene is on display. It includes sprays and wipes for hands, surfaces and medical devices and also a new range of continence care wipes. These latter contain a patented formula which reduces infection risk and increases comfort in incontinent patients. All Gama Healthcare's products are evaluated in independent laboratories and tested to European standards.