World's 1st cardiac motion evaluation in minutes
Toshiba's new Artida Ultrasound system is the world's first ultrasound system that can track and display myocardial wall motion three-dimensionally.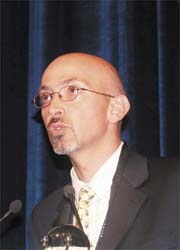 'I can obtain several parameters in just a few minutes — longitudinal strain, radial strain, circumferential strain, rotation, shear, twist and torsion of every cardiac segment,' confirmed Leopoldo Pérez de Isla MD PhD FESC, of the Cardiovascular Imaging Unit in the Cardiovascular Institute at the Clínico San Carlos Hospital, Madrid.
The system has a wall motion tracking feature that allows the user to obtain angle-independent, quantitative and regional information about myocardial contraction.
3-D Speckle
This new diagnostic tool was designed to improve case assessments. Dr Pérez explained its value: 'The heart has three dimensions, so heart motion does also happen in three dimensions. So far we can assess wall motion quantitatively only two-dimensionally, not taking the complex twist and shear motion of the heart muscle into account. The new 3-D-speckle technology (developed by Toshiba) allows us to follow speckle in three spatial directions. What's more, the acquisition and analysis of the data sets is easy and fast, using the 3-D data set. The new technology provides a fast and global approach to the analysis of these parameters and avoids its under-use due to the time consuming 2-D derived speckle technology.' Therefore, arbitrary views of the heart that are unavailable in 2-D imaging can be obtained for surgical planning.
Additional features
Artida's new SmartCore engine employs with the processing power of more than 80 processor cores interconnected by a fast digital system interface, and that means the Artida can obtain clear echocardiographs and a high diagnostic accuracy, Toshiba pointed out. 'A MultiCast beamformer uses advanced digital signal processing to control the shape of the ultrasound beam more precisely and flexibly than in comparable systems. SmartFocus is the first 4-D technology applied to conventional 2-D imaging transducers that offers a finer and more uniform ultrasonic beam in all three dimensions, resulting in an improved image quality from the very near to the very far field.'
The new Tissue Enhancement Mode, which suppresses white noise effectively, enhances image uniformity and endocardial border delineation could be strengthened, the company added, particularly in difficult-to-scan patients.
More on the subject:
More on companies: