Vision Inside the Heart
A small, powerful new ultrasound catheter, named AcuNav 8F, improves access to the entire heart, Siemens Medical Solutions reports.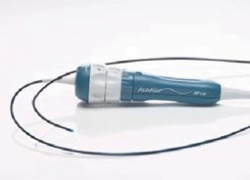 Sized at eight French, it is 33% smaller in the cross sectional area than the existing AcuNav 10F. According to clinical evaluations, the new catheter's smaller size, along with the same high resolution and imaging depth of AcuNav 10F, is a significant improvement and allows access even down to small patients. 'The size and flexibility of the new catheter were very impressive and provided us with improved visualisation of defects with less trauma to patients,' said Ziyad M Hijazi, MD MPH, Professor of Paediatrics and Medicine, University of Chicago, USA. 'During evaluation, I performed two atrial septal defect (ASD) closure procedures and one patent foramen ovale (PFO) procedure. Two of the patients were quite small; the third weighed just over 118 kilograms. With the 8F, I was able to get spectacular images of clinical significance with no problem at all.'

Dr Hijazi agreed with other clinical evaluators about ASD closure procedures in smaller patients. 'There will be no need to use trans-oesophageal echocardiography (TEE) in small patients, and the operator will be able to perform the echocardiographic evaluation and closure simultaneously, therefore the resources in the department will be used more efficiently.'

The new catheter provides visualisation of vascular and cardiac anatomy and physiology, measurement of blood flow and visualisation of other devices throughout the entire heart. Klaus Hambüchen, Head of the Ultrasound Division at Siemens Medical Solutions, said the trend is towards more catheter-based procedures, which demands new visualisation techniques. 'The ability of intracardiac echocardiography to see anatomy and devices under blood will enable many new applications such as mitral and aortic valve repair using catheters, and will accelerate the adoption of catheter-based procedures that reduce trauma and recovery time for patients.'
The AcuNav 8F catheter is currently available on the Sequoia ultrasound platforms, the Acuson CV70 cardiovascular system and the Acuson Cypress cardiovascular system.
More on the subject:
More on companies: