Visceral medicine in 2011
Excising the entire cancer tumour from the stomach prevents relapses. This procedure can now be performed endoscopically. Holger Zorn reports from the Visceral Medicine 2011 Congress in Leipzig.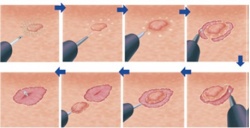 Although in decline, stomach cancer is still one of the most common cancers. 50,000 men and 32,000 women developed stomach cancer across the EU (EU-27) in 2008. The mortality rate in the advanced stage is more than 70%. The cause is almost always an infection with the stomach bacterium helicobacter pylori.
The earlier a tumour is detected in the stomach wall the better the chances of a cure. Endoscopic submucosal dissection (ESD) makes it possible to operate on even large stomach tumours in one go during the early stage of the disease, which lowers the risk of a relapse. A completely removed tumour also delivers more precise information on other risks.
An ESD is carried out like a gastroscopy, with the help of a flexible endoscope guided through the patient's mouth. The doctor flushes the mucosa around the tumour with saline solution through the endoscope, which thus becomes distinguished from the lower layers of tissue. A wide area is then cut around the specimen and the surgeon severs the submucosa (tissue under gastric mucosa). 'When the resection of a tumour is not possible 'en bloc' with other endoscopic procedures, ESD is the method of choice,' explained Dr Siegbert Faiss, who heads the Gastroenterology and Hepatology Department at the Asklepios Klinik in Hamburg Barmbeck.
Whilst the procedure is already established in Japan, in Europe early stage stomach cancers are mostly removed using a wire sling. Although this is easier and quicker, larger tumours can only be resected piece by piece. This makes later microscope assessment and a precise risk assessment more difficult. In addition, cancer cells potentially remaining in the body put the patient at risk of tumour recurrence.
Quoting a study carried out on more than 90 patients in Augsburg Hospital (Endoscopy. 2010 Dec; 42 (12):1037-44), Professor Helmut Messmann, gastroenterologist and director of the 3rd Medical Clinic at the hospital, said 'Those patients whom we treated with ESD had a significantly lower rate of relapses.' However, the procedure is technologically very challenging, requires a lot of practice and should therefore only be carried out by experienced experts.