Article • Minimally-invasive
Endoscopy: Through the keyhole or open surgery?
Physicians in Germany remove around 200,000 gall bladders annually, mostly by minimally invasive surgery, the so-called keyhole surgery. While gall bladders and appendices can be removed through a tiny aperture in the body, large tumours cannot.
Report: Anja Behringer
Patients also profit from the keyhole technique with joint and bone problems in the knee, shoulder or elbow. Advantages: small cuts, less blood loss, fast mobilisation, altogether a lower operating risk, especially for older patients. By means of a five-fold magnification and very high resolution of the mini-camera on the endoscope, this procedure offers high accuracy in the anatomical view and protection of organs, vessels and nerves in the abdominal space.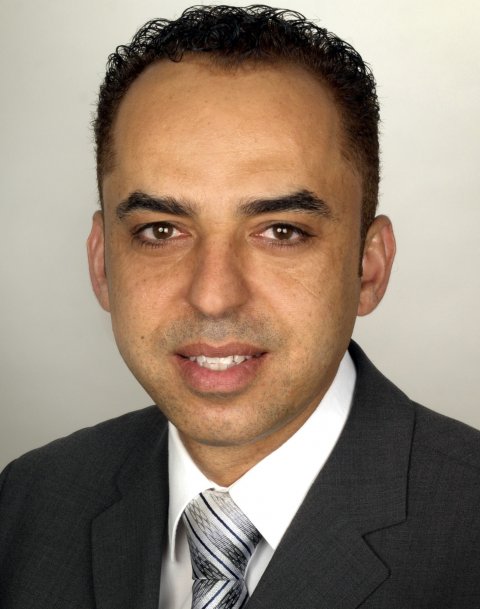 Visceral surgery particularly benefits from the technique, which triggered great euphoria when introduced into medicine over two decades ago. Nonetheless, it has not replaced open surgery in certain fields, as a comparison with practice elsewhere shows. According to current statistics presented by Professor Ayman Agha MD, chief physician in the Clinic for General, Visceral, Endocrine and minimally invasive surgery at Munich-Bogenhausen, this is the case for minimally invasive (laparoscopic) surgery for colorectal cancer. The procedure is used in about half of the United Kingdom's cases, and, in percentages, 90 percent in Denmark, 80 percent in the Netherlands whilst, in Germany less than a third of cases involve laparoscopic surgery.
Although current evidence for both procedures shows them to be equivalent and even indicates advantages for laparoscopy, Agha sees the following reasons behind European differences:
MIS to treat colorectal cancer is a genuinely technical challenge for many surgeons.
The surgeon's age plays a decisive role: Older physicians prefer proven common surgical methods for colorectal cancer, whereas surgeons are open to new and innovative techniques.
Much practice is needed to master this technique – a specialist expertise gained from performing many demanding operations.
For over 16 years Agha has led and supported clinical research projects in colorectal and endocrine MIS and he uses laparoscopy in 95 percent of rectal cancer operations.
In the '90s, when minimally invasive surgery (MIS) arrived, it was feared that malignant colon and rectal carcinomas could not be removed hygienically and patient survival would be jeopardised. Meanwhile several large-scale international studies rebutted those reservations. In terms of long-term outcome after MIS, many patients are at least as likely to survive as after open surgery. The relapse quota for a malignant tumour is still at least the same for both. Nevertheless, for chronically inflamed intestinal illnesses, Agha believes that the decision on which surgical method to use should depend on whether patients have a benign or malignant illness – because tumour size and location (whether colon or rectum) and a patient's body-mass index play a decisive role.
Minimally invasive surgery limitations in techniques
In particular, the optics have improved enormously, delivering razor-sharp images of the body's interior to high-resolution monitors
Despite rapid MIS development in recent years and especially outstanding technical equipment, the question arises as to whether there are limits to MIS techniques. Although MIS is performed, common open surgery is still the standard procedure e.g. for large liver resections. In Agha's opinion this also applies to large pancreatic or head tumours. By contrast, MIS can be applied with good results to benign and malignant pancreatic carcinomas found at the tail of the pancreas.
Much operating experience is necessary to perform successful keyhole surgery. Significantly more time is needed for minimally invasive interventions than open surgery. The German Society for General and Visceral Surgery offers a certification process whereby physicians must document a minimum number of operations.
After more than 20 years of experience it is pretty clear when the procedure is suitable and when it is better to operate using conventional methods. In some cases the MIS has disadvantages that cannot be overlooked, e.g. if earlier interventions left very large scars in the abdomen or if, in a complex cancer operation, several abdominal organs are affected.
Technological progress eases the work of physicians with the use of ever-smaller instruments. The modern devices are only millimetres in size. In particular, the optics have improved enormously, delivering razor-sharp images of the body's interior to high-resolution monitors. In addition, the 3-D technology shortens the learning phase for new physicians.
Profile:
Professor Ayman Agha MD has been head physician in the Clinic for General, Visceral, Vascular and Thoracic Surgery at the Munich-Bogenhausen Hospital since 2014. Born in Gaza, he gained his German school-leaving certificate at the University of Bonn in 1987 and took his state exams at the University of Erlangen-Nuremberg in 1993. At the Clinic and Polyclinic for Surgery at the University Hospital Regensburg, he became senior physician in 2000. His clinical focuses are cancer and visceral surgery, minimally-invasive surgery as well as chronically infected intestinal illnesses and endocrine surgery. As a researcher he supervises and supports mainly clinical research projects in minimally invasive colorectal and endocrine surgery.