Advanced technology
Vantage Elan delivers premium MR performance
At last year's ECR Toshiba introduced the Vantage Elan 1.5 Tesla ­ system with a lot of innovative features and new techniques, ­making it a pleasant and helpful new workhorse for small and large clinics. Since this introduction, the Vantage Elan has seen fantastic success in Europe because of the outstanding clinical and economic benefits it brings with advance technologies. The Elan offers outstanding image quality from head to toe thanks to advanced ­features included on Toshiba's premium-tier MR systems.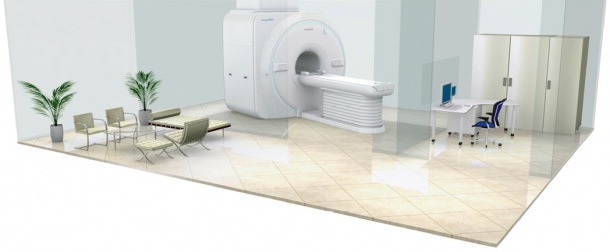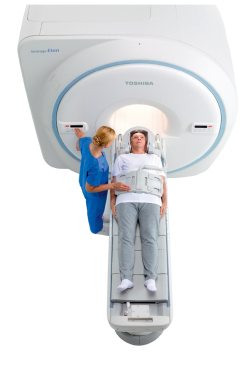 Toshiba unified lots of innovative details in the new Vantage Elan to achieve an optimal homogenous magnet field, being the key to high image quality. The quality of MR images depend on the homogeneity of the static magnetic field generated by the superconducting magnet. The company therefore developed an Advanced Magnet system, a key technology which generates a highly homogenous static magnet field and ensures a wide scanning range and stable image quality.
Additionally the Advanced Gradient Shielded Coil System – a completely new concept – minimizes eddy current which results in clearer patient images. This works together with the unique gradient coil cutting technology that cuts high-purity copper ingots into 3D shapes at the micron level. This technology ensures excellent stability and highly effective eddy current suppression.
With images from the new Toshiba scanner surgeons now can see details they had not seen before. Even aortic images can be delivered in good quality. ­Usually the ankle joint cartilage cannot be seen, because it is quite narrow. With the Vantage Elan 1.5 this cartilage can be seen now, even the thin line showing the actual joint with cartilage above and below. This is what orthopedic surgeons want to know.

Smallest footprint scanner in the world
With the development of the Vantage Elan, Toshiba not only looked to investment costs and running costs, but took the Total Costs of Ownership in consideration; such as: investment, maintenance, space requirements, installation requirements, electrical power connection, running costs, power consumption, cooling requirements and installation down time. Concequently the Vantage Elan has the smallest footprint of any scanner in the world and is engineered to deliver the lowest running costs. Setting-up is done within five days and saves time during the installation work. Energy-saving features built into the Vantage Elan reduce the total power requirement to 25 kVA, the lowest level in its class, resulting in significantly lower running cost. The maximum power consumption is approximately half that of previous scanners, which also contributes to cost reduction and environmental conservation. Also the Eco mode saves lots of energy. The Eco mode turns off parts of the system when it is not being used and can recover ­within one second and is ready to scan again. In sum costs for power requirements can be reduced by 68 % per year.
The new system also saves real estate costs for smaller institutions or community hospitals that need high-quality imaging systems with a smaller footprint. The minimum footprint of only 23 square meters, makes the Vantage Elan approximately 29 percent smaller than with previous 1.5 T systems. The innovative redesign of the control cabinet means the MRT does not require a separate computer room. Even the heat generated by the Elan can be captured and used for heating an ecologically designed building or any other purposes.

First time absolute silence in MRI
Generally MR Scanners are a source of permanent noise causing discomfort to patients and even more for the medical staff working with these systems all day long. Toshiba took this challenge as accepted and now, when the new Vantage Elan scanner is operating, one can close the door and it will be absolutely silent.
The usual noise generated during MRI scanning is caused by the vibration of the gradiant coil. Therefore Toshiba invented its Pianissimo Σ™ noise-reduction technology which results in a completely new kind of comfort for both – patients and operators. Pianissimo Σ™ is a hardware solution that physically reduces noise. It is not software that requires reinventing all sequences. Because Pianissimo Σ™ is engineered into the construction of the scanner, it reduces noise for every scan across the entire sequence list. Toshibas' new technology puts patients at ease and addresses a major problem for people working with MRT.

Optimal workflow through ­EasyTech and M-Power
The advanced M-Power interface from the Vantage Titan 3 Tesla scanner is now onboard the Vantage Elan, which includes the best positioning software for cardiac, neuro, and orthopedic imaging. The intuitive M-Power user interface improves productivity by simplifying exams with advanced post-processing tools.
So, it does not matter if the radiologist wants to do neuro, spine or cardio MRI, Easy Tech precisely recognizes target shapes and helps the clinician to set optimized scan planes. The calculation of the best settings is completed in a few seconds, which clearly improves examination workflow. Due to EasyTech, high quality examinations can be acquired even by less experienced operators. NeuroLine automatically measures and analyzes the shape of the brain, determines the optimal slice position in each plane, and displays them within seconds. So does SpineLine. It automatically measures and analyzes the shape of the spine, determines the positioning ROI in each plane, and displays them within seconds. With CardioLine, precise cardiac examinations become available in a short time, reducing the patients' and technologist tension and stress.
From patient registration to image reconstruction and transfer – a wide variety of applications can support scan positioning and parameter settings, increasing operational efficiency.
For more information, please visit www.toshiba-medical.eu
More on the subject:
More on companies: