US skin refrigerants for EU
Ethyl Chloride skin refrigerants made by the Gebauer Company, of Cleveland, Ohio (established over 100 years ago) have received the CE Mark of approval.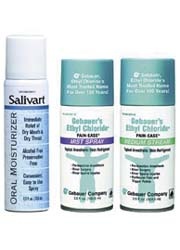 Ethyl Chloride Pain Ease, with two delivery systems - mist and medium stream spray - is ideal for minor surgical procedures, pre-injection anaesthesia, minor sports injuries and pain management due to trigger points using the 'spray and stretch technique, the firm reports.

Exhibiting for the first time at MEDICA, last year, the firm said the product received overwhelming interest and European distribution outlets are being set up to meet demand.

Also in the process of completing the CE Mark requirements are the firm's Salivart Oral Moisturiser, offering 'immediate relief for xerostomia (dry mouth) and dry throat'. One spray coats the mouth, tongue and throat to facilitate speaking, chewing and swallowing, the firm points out.
ISO 9001, EN 4600 and ISO 13485 quality certification have also been received.