Event
US-American clinical lab specialists meet today
Did you know that we offer around 1200 features on laboratory medicine? No? Then you might want to browse through our compilation of interesting articles on pathology, chemistry or management and many more.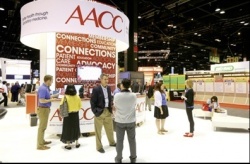 Within the next 15 years we will run out of effective antibiotics. A world in which common infections and minor injuries can kill is not some weird nightmare, but a very real possibility for the 21st century. Geoff Sussman, one of the world's foremost wound experts has warned that antibiotic resistance is posing the biggest single threat to global health.
Have you ever wondered exactly what 'clinical chemistry' is? In 'Clinical chemistry is broad ranging' Professor Katharina Rentsch describes why the clinical chemist's job, far from being tedious and monotonous, makes a fascinating task, every day.
Digital pathology is creating quite a buzz these days. However, in order for digital pathology to be able to benefit from IT advancements such as electronic image analysis, archiving, virtualization and workflow documentation, it has to master major challenges. Firstly, there are technological issues such as the management of huge data volumes created by gigapixel virtual slides, or hardware issues surrounding the speed of scanners and the quality of screens. Secondly, there is integration: how will digital pathology be integrated in the overall processes covering pathology, lab and information systems? Mastering these challenges requires implementation of - and blanket compliance with - suitable standards. The race is on!
POCT to facilitate high quality ambulatory care is a critical step towards defining hospital care of the future. A propos POCT: RAPIDComm® Data Management System software version 5.0 is Siemens' IT ecosystem solution for managing POC testing. This new version introduces key enhancements to help meet compliance requirements and efficiently manage operator training and certification.
And last but not least we will be taking a closer look at the impact of "genetic alterations" on the occurrence and severity of diseases and on therapy response - and we will present a laboratory that is fit for the future.
Click here for more information on laboratory medicine in general!
Please visit us at AACC at Booth 4916. We look forward to seeing you!