Update UniCel integrated systems
This summer, California-based Beckman Coulter Inc. began general distribution of its UniCel DxC 880i's integrated system in Europe.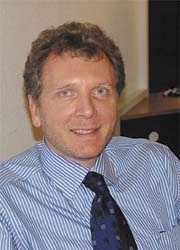 'The company's technological achievement with the DxC 880i has been to devise a way to integrate the testing process by running chemistry and immunoassay tests in parallel and to do this without removing sample caps and exposing the blood to contamination,' explained Marc Meyer, Beckman Coulter Europe's new clinical diagnostics marketing director. 'Since it was first featured at EuroMedLab 2007, customers have ordered the individual elements, the UniCel DxI 800 immunoassay analyser and UniCel DxC 800 clinical chemistry system, planning to connect them with Beckman Coulter's second generation closed tube aliquotter (UniCel CTA) to form the DxC 880i.'
Scott Garrett, the firm's Chairman, President and CEO, emphasised how it relies on customer input to help define laboratory requirements. 'Before the beginning of this century, customers were indicating the value they placed on integrating chemistry and immunoassay testing, so we started development of systems to meet those needs. Market analysis today tells us that integrated systems are the fastest-growing segment of chemistry system sales.' He followed this with announcements that included the launch of three more integrated systems by the end of 2008 – the UniCel DxC 860i; DxC 660i and DxC 680i.

Molecular diagnostics
Unveiling plans for expansion into the US $2.1 billion molecular diagnostics market with the launch of a random access analyser, the UniCel DxN, Scott Garrett explained: 'Molecular diagnostics is one of the most important technological advancements in clinical diagnostics, but it currently operates outside the core laboratory. We will use our expertise in laboratory instrument design and our diverse intellectual property portfolio to develop a 'sample-to-result' system that meets the needs of the core laboratory.'
Market expansions
Talking about the growth in health care infrastructure investment in emerging markets, he said:
'This is one of the key factors for growth of the entire industry. We have made significant investment in our operations outside the United States to take advantage of this trend. For example, in India, we established a direct sales office. And growth in China continues in the double digits as we invest in our operations there.'
The group's former EMEAI (Europe, Middle East, Africa and India) region has been split into two: Europe (Western); and Emerging Markets (covering Eastern Europe, Eastern Mediterranean, Africa, Russia, the Middle East and India). Both operations are still managed from
the group's European headquarters in Nyon, on Lake Geneva, Switzerland.
Pre-eclampsia markers
The company is also focusing on prenatal testing; prostate cancer, anaemia; reproductive endocrinology; and cardiac testing. In terms of pre-eclampsia, for which currently there is no diagnostic test, the company is working on the development of two markers to help diagnose the condition.
More on the subject:
More on companies: