News • Utilizing findings from cancer research
Understanding immunity to SARS-CoV-2
Why does every person react differently to an infection with the coronavirus SARS-CoV-2? Why do some people have no symptoms or only mild symptoms of COVID-19, the disease which it causes? And why do some people become so severely ill that they require ventilators or even die?
These questions are being investigated by Professor Mascha Binder, director of the Department of Internal Medicine IV at University Hospital Halle (Saale), together with her team and other partners from University Hospital Halle (UKH) and the Hanover Medical School.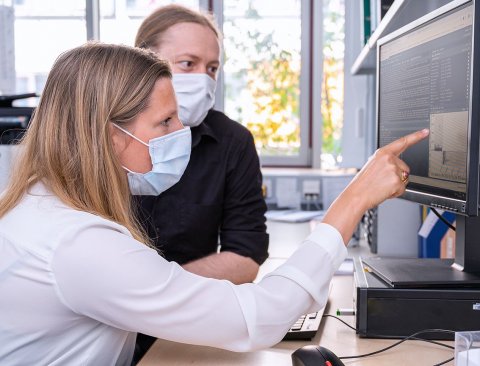 "We are comparing samples from people who have recovered, which have been sent to us from all over Germany, with samples from patients with severe forms of the disease," explains the hematologist and oncologist, who has been investigating immunotherapies for cancer for years. "Cells infected with the coronavirus behave in a very similar way to cancer cells. Both try to hide from the body's immune response and to evade immunological control. Our aim is to use the differences in the immune signatures to investigate on a molecular level why the human body reacts so differently to the virus and how exactly the immune response works," says Binder. The researchers want to find out how immunity to SARS-CoV-2 develops, how long this immunity lasts, and why the immune response is sometimes late and the course of the disease so severe.
Immune signatures are predominantly found in recovered patients or in those who have only developed mild symptoms. "We want to find out what the differences are and what enables these patients to fight the virus and the disease better than others," says Binder. This information will be used to identify so-called predicators that can narrow down whether a person develops no case, a light case or a severe case of COVID-19.
The more [samples] we get, the better we are able to understand the mechanisms of immunity to SARS-CoV-2

Mascha Binder
According to Binder, the current study is "highly relevant" and will help in developing further methods, including confirmation tests for existing tests in addition to antibody tests. "Current antibody tests cannot provide one hundred percent certainty," explains Binder. These findings could also help contribute to the testing of vaccines. A biobank has also been set up by Professor Daniel Sedding, director of the Department of Internal Medicine III at UKH. Here samples are collected that show the progression of COVID-19. The biobank already contains more than 100 samples. "The more we get, the better we are able to understand the mechanisms of immunity to SARS-CoV-2," says Binder, who is very grateful to have received official approval to work with blood samples from infected patients. "The State of Saxony-Anhalt reacted very quickly, which is not always a foregone conclusion."
An application to fund a further study will be submitted in mid-May. This will be a clinical study that also takes advantage of findings from cancer research. "We are currently planning innovative immunomodulatory cell therapy at UKH which we want to offer patients at risk of contracting a severe form of the disease. The method is also based on experience in treating cancer with stem cells, which are able to control inflammation, most likely also in lung tissue. This could lessen the severity of the disease," explains Binder.
Source: University Medicine Halle