Article • Interventional Radiology
Ultrasound implementation is going universal
Used in combination or exclusively for 90% of IR procedures in everyday clinical practice

'Ultrasound imaging is an attractive non-ionising medical imaging tool. It's safe, free of side effects and offers an unmatched real-time imaging capability,' interventional radiologist Professor Giancarlo Bizzarri underlines during our EH interview.
'In the last decade, technological improvements, such as colour-Doppler, contrast enhanced ultrasound, harmonic imaging, and elastography have increased the power of ultrasound,' radiologist Giancarlo Bizzarri points out. 'As a matter of fact, many medical specialists, other than radiologists, now make regular use of ultrasound in their daily practice. Thanks to its flexibility, medical ultrasound has been successfully introduced in emergency departments. 'But, we have to remember that diagnostic ultrasound is just one side of the coin.
'The real-time nature of ultrasound paved the way for its use in guiding interventional procedures. For example, in our department at Regina Apostolorum Hospital, although the number of diagnostic ultrasound examinations has been reducing over time, 90% of all interventional procedures are now performed with the exclusive or combined use of ultrasound.'
Easy to use systems
'The increasing demand for productivity by hospitals, diagnostic centres and private studies has driven the simplification of ultrasound systems. The widespread use of ultrasound has caused industries to focus their attention on the design, ergonomics and ease of use of the instrument. Diagnostic confidence increased, allowing the operator to focus on the patient, rather than on using the tool itself, which must have a user interface that is as simple and intuitive as possible. In addition, the introduction of purely digital scanners makes it possible to produce easy-to-use, self-adjusting equipments such as EasyMode technology.
Promising new tools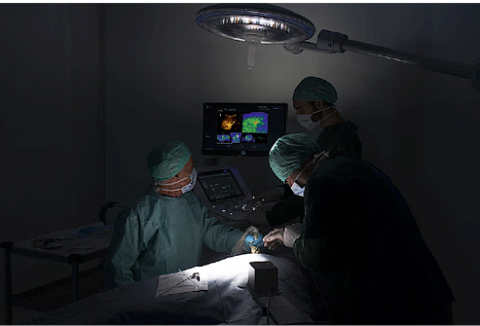 'Diagnostic ultrasound is a varied and complex field, and some tools are more effective than others at providing high-tech answers to the following radiological requirements:
Non-invasive measurement of tissue elasticity using strain elastography or shear wave techniques can be promising for the characterisation of thyroid, breast, musculoskeletal, prostate and hepatic lesions.
The introduction of new algorithms to colour Doppler for advanced haemodynamic analysis enables detection of low-velocity blood flow and microvascularisation, for example in the presence of thyroid lesions, breast cancer, or in the early diagnosis of degenerative rheumatic diseases.
Contrast-enhanced ultrasound with high sensitivity, deep penetration, great resolution, and tissue-specific contrast media will be suitable for a wide range of clinical applications.
Real-time image fusion techniques allow ultrasound to be spatially co-registered with multiple volumetric image diagnostic modalities, such as MRI, CT, PET, and scintiscan, to create a virtual environment that maximises anatomic localisation and lesion characterisation and reduce the radiation dose and costs.
Benefits from multimodal real-time ultrasound combined with MRI/PET/CT
'We can combine the top performance and exclusive solutions of ultrasound systems with the specific information offered by MRI, PET and CT. Specifically developed for interventional imaging, fusion imaging technology provides additional clarity and precision when ultrasound-guided interventional procedures are required.
'Interventional settings require dedicated features and solutions that allow the accurate management of any kind of clinical problem. In a radiology department we have access to different kind of imaging techniques, such as MRI, CT, PET, fluoroscopy, nuclear medicine imaging, and so on. For the best patient care it's often not enough to use just one of these techniques separately. Image fusion such Virtual Navigator merges the real-time capabilities of ultrasound such as Doppler, CEUS, and elastography with functional information from other systems.
'Merging the information from different modalities, fusion imaging technology can also provide a real-time, accurate, low-cost, and radiation-free solution in research and teaching.'
3-D use increases in IR – what about 2-D imaging?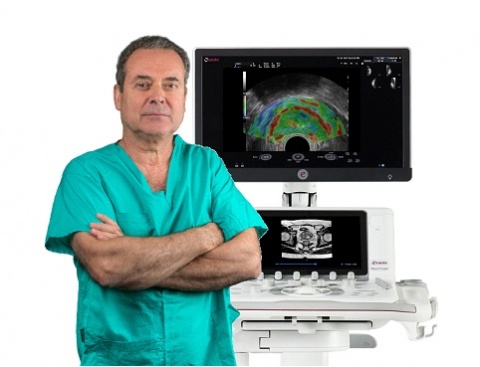 'The cognitive localisation of lesions with real-time ultrasound while making use of a secondary 2-D technology represents a significant challenge in every day clinical practice. Recently, an advanced technique was developed that makes it possible to precisely locate lesions, or other anatomical landmarks on real-time ultrasound via co-registration of the probe position with a 2-D secondary modality.
'In our experience, the use of these Body Map technology with scintiscan imaging has resulted in a high level of accuracy, with very easy matching and precise real-time tracking. These new 2-D mapping techniques may provide tremendous support in the accurate diagnosis and proper planning of surgery and interventional procedures such as core biopsies and FNA procedures.
'Because BodyMap 2-D navigation, 3-D Fusion Imaging, and Virtual Biopsy techniques can increase the diagnostic confidence of the operator, in different parts of the body, there are countless possible applications. Simplified and automatic fusion technologies and customised protocols will reduce the learning curve for the operator, and will help to make all these techniques more widespread.'
New developments and future impact
'The main efforts in medical imaging are now directed towards prevention, diagnosis, selection of optimal (personalised) therapy (local/systemic), guidance of local treatments, assessment of therapy results (local/systemic) and disease follow-up. All these objectives require information to be not only archived and communicated, but also co-registered and processed by fusion and virtual reality software algorithms.
'In the near future, these new technologies will be integrated into all imaging and diagnostic modalities, PACS, Oncology Information Systems, and HIS, going beyond the simple radiological environment and spreading throughout all diagnostic and therapeutic fields.'

Profile
Professor Giancarlo Bizzarri is the Head of the Interventional and Diagnostic Radiology Department at Regina Apostolorum Hospital – Albano Laziale (Rome, Italy).