Computer Tomography
Ultra-low dose delivers diagnostic quality
The first thing to know about FIRST is how easy it is to use. For ­clinicians the system makes ultra-low-dose iterative reconstruction simple, an automated process that fits seamlessly into daily workflow, Toshiba reports.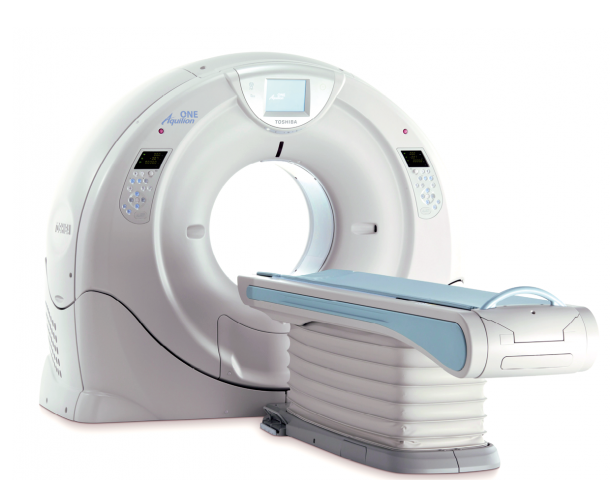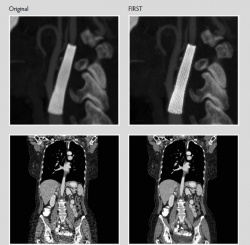 "For radiologists who want to look under the hood and study the engine driving this technological break-through, fast will be the first word that comes to mind. Toshiba accelerated computational throughput to bring their true iterative reconstruction technique FIRST to the clinic for which extensive reconstruction times are not acceptable." Available for the Aquilion ONE Family of CT systems, FIRST – Forward projection model-based Iterative Reconstruction SoluTion – visually improves high-contrast spatial resolution while making exams safer for patients by providing ultra-low dose examinations, Toshiba explains.
Professor Alain Blum MD, from the University Hospital of ­Nancy, in France, scanned over 250 patients with the system in the first week after installation and was impressed by the speed and image quality. According to Blum it contributes to a significant improvement in image detail and it was possible to reduce dose to levels he never saw before. "With the new algorithm we can reduce the dose by a factor three compared to currently state of the art iterative reconstrutions, this is very impressive," he said.
"The new system is integrated in SUREExposure, Toshiba's AEC tool, to ensure automatic dose reduction of up to 80 % in volume and helical scanning respecting the user-required clinical image quality. Using dedicated hardware the reconstruction of a complex volumetric data set only takes approximately three minutes," the manufacturer reports.
Blum: "We see an improved image quality with fast reconstruction that's easy to use, even at two o'clock in the morning. What we also see with FIRST is an opportunity for new protocols and applications, such as ultra low dose chest CT exams for pulmonary embolism with frail patients who have renal or cardiac insufficiency, for pregnant women or patients in a coma."
Henk de Vries, Senior Product Manager at Toshiba Medical Systems: "Quite simply our approach is that advanced iterative reconstruction should not be a technological challenge, but an automated technology that fits seamlessly into daily clinical practice. FIRST works with forward projection in the raw data domain using optic models to improve spatial resolution; it is incredibly robust for data with extremely low photon counts and improves image quality. The automated process translates into an easy and fast application to significantly reduce the radiation and improve image quality.'"
More on the subject:
More on companies: