Tumour boards cause staff problems
German radiologists believe that they are essential; however, although many advantages exist, there's also a problem, Daniela Zimmermann reports
About 20 years ago the first tumour boards were set up in Germany. Initiated and led by surgeons, they not only invited oncologists, radiotherapists and radiologists to conferences but also, increasingly often, pathologists.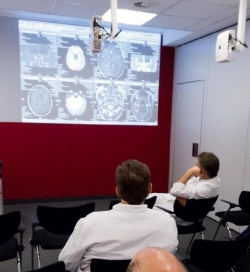 That is how, in the 1990s, Professor Hermann Helmberger MD, Senior Consultant at the Centre for Radiology and Nuclear Medicine at the Dritter Orden Clinic in Munich-Nymphenburg, experienced the introduction of tumour boards at the Klinikum rechts der Isar at the Munich Technical University. The trigger for the formation of tumour boards, he recalls, was the emergence of neo-adjuvant therapy concepts. 'At that point in time, where tumour treatment had clearly become more complex and individual steps of therapy had to integrated, it made sense to coordinate the treatment approach right from the very beginning.'
Obvious advantages
Around ten years ago specialist medical associations followed the trend towards structured quality assurance in cancer treatment by introducing the certification of treatment centres. The interdisciplinary exchange during tumour board conferences is a central point for quality audits and is decisive for successful certification through OnkoZert and the German Cancer Society. The certification of a centre depends on them. This approach initially became established in breast cancer treatment.
In Germany, the impulse for this was given very strongly by patients and their self-help organisations, which exerted pressure on politicians as well as medical staff to standardise and improve treatment. 'Up to this point, treatment was very much dependent on the ability and decision of the doctor in charge. It mostly consisted of surgical removal of a tumour without structured follow-up treatment,' said Prof. Helmberger, adding that it is unlikely that particular tumours will be treated anywhere other than in certified treatment centres.
'The importance of tumour boards increases parallel with advances in individual medical fields. Nowadays, no two breast cancers are treated in exactly the same way, and the whole spectrum of diagnoses and therapy can only be offered by a hospital that specialises in providing it all day, every day,' he explained. The situation is slightly different in the case of Bowel Cancer Centres, which were certified after the Breast Cancer Centres, but are not as numerous. Surgery on a life-threatening intestinal obstruction, often resulting from cancer, must to be carried out there and then – notwithstanding if the respective hospital has achieved certification or not.
Tumour boards create staffing problems
According to the professor, with all the advantages that come with the work of tumour boards, particularly regarding patient outcome, the expenditure of time required from all medical disciplines involved remains a difficult problem to solve. 'It takes up numerous man hours, particularly those of the best in their respective fields, since the boards are made up of at least one specialist or, even better, a consultant. Unlike in the USA, and in German university hospitals, smaller radiology departments cannot train a specialist for each tumour conference. Although this gives us an advantage because tumour boards enable doctors to broaden their horizons beyond their own specialist medical field, there is a problem, because these specialists are also needed in the clinic, so conferences have to be held outside peak hours, i.e. either early in the mornings or late in the afternoons, which does not help to make them popular.'
The use of additional contract staff just for the tumour conferences is no solution, he believes, on the one hand because this expense would not be covered by medical insurers and, conversely, because doctors need to be available for their clinical colleagues and to make decisions on site throughout the week. 'It would be an illusion to believe that decisions about therapy are only made during tumour board conferences. Although this is where they are approved and logged, in urgent cases images have to be discussed and treatment concepts developed at any time during the week,' he pointed out.
Prof. Helmberger also believes that employing more staff is not necessarily the answer as there would not be enough work on days when no tumour board conferences are held. He believes the best way forward would be to broaden the base and ensure a healthy mix of experienced and less experienced colleagues. 'It would be desirable to have a few more doctors with comprehensive, general radiological training as well as a specialty. But their deployment must not lead to cuts in the number of junior doctors because,' he concludes, 'one day this may lead to a lack of qualified junior staff.'
Profile:
Professor Dr Hermann Helmberger is Medical Director of the Department of Diagnostic and Interventional Radiology and Nuclear Medicine at Klinikum Dritter Orden and Nymphenburg Radiology and Nuclear Medicine Centre, Munich, Germany. He began his medical career 1981 at the University of Regensburg. During his clinical training at the Klinikum rechts der Isar in Munich he chose radiology as sub-specialty. He completed his residency at Nymphenburg Hospital and at the Klinikum rechts der Isar where from 1996 to 2000 he was Senior Resident and later Managing Senior Resident and Deputy Director of the Institute of X-ray Diagnostics before was appointed to his current position.