Toshiba strengthens its position on the CT-market
The Aquillion 64/32 slice CT-systems by Toshiba Medical Systems has become a favourite with radiologists: Recently the 1,000th system was implemented at Tonan Hospital, KKR Sapporo Medical Center in Japan. With that landmark figure, the company is on a par with CT market leaders as GE Healthcare.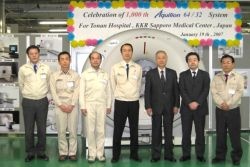 This achievement - reached within only 26 months - sets a new record for the CT-section of Toshiba Medical Systems and was the reason for a huge ceremony attended by Masamichi Katsurada, President and Chief Executive Officer Toshiba Medical Systems Corporation and other executives. Katsurada appreciates not only the successful efforts of the procurement and production departments but also of the service department, for they ensure the doctors satisfaction after the implementation of the system and during daily business.
An easy and fast workflow as well as a strongly reduced x-ray exposures are basically responsible for the success of the Aquillion 64/32 slice series: Automated features, such as "SureCardio" enable the operator to monitor the heart rate of a patient prior to the actual scanning, the optimal scanning conditions are set automatically. Due to the 3-D Quantum denoising technique, the patient dose can be reduced up to 40% without loss of images.
Additionally, information exchanges among physicians through academic activities as CORE64 ensure high quality standards and a continues development of the systems.
More on the subject:
More on companies: