Toshiba's Aplio series includes Fly Thru and Smart Fusion
Toshiba's new high-end ultrasound series, the Aplio 300, 400 and 500, introduced during the World Congress of Ultrasound in Medicine and Biology in Vienna, this August, was heralded by the firm as 'A giant leap forward', due to its inclusion of features such as Fly Thru and Smart Fusion.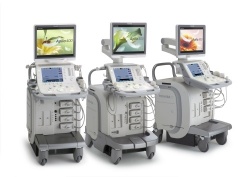 'The new Aplio series offers an extensive range of clinical innovations presented in a fresh, extremely smart and ergonomic design,' confirmed Dr Jörg Schlegel, Global Marketing Manager, Business Unit Ultrasound at Toshiba Medical Systems. 'State of the art technologies and pioneering new features enhance all aspects of ultrasound imaging raising the highly successful Aplio brand to an entirely new level.'
The inclusion of Smart Fusion in the new Aplio series enables users to merge CT or MRI images with the ultrasound scan in real-time. As explained by Toshiba:
• Smart Fusion is a powerful navigation tool that allows the combination of different imaging modalities on-screen in real-time. It reads 3-D DICOM data sets from all major imaging modalities, such as CT and MRI. A position-sensor with sub-millimetre accuracy is attached to the transducer shaft to provide free access during interventions. Matching the transducer position with the pre-acquired 3-D data set is a simple and quick twostep process, making this tool easy to work with in daily routine.
• Fly Thru utilises perspective rendering to let you virtually dive into a volume data set and explore cavities, ducts and vessels from the inside and in 3-D. While conventional 3-D imaging displays the surface of a given structure by parallel projection, Fly-Thru uses perspective projection to display a given structure, emphasizing the near over the far field much like in optical endoscopy.
Joop van de Kant, the firm's Clinical Marketing Manager Ultrasound, said that the company not only aimed to maintain its excellent reputation in the ultrasound market, but also to chart new territory and offer completely new diagnostic options. Toshiba involved renowned clinicians in the Aplio development from a very early stage, leading to further improvement of image quality compared to Aplio XG, already the benchmark in the high end market. 'Although very satisfied with the image quality of our current Aplio systems, the new Aplio 500 gives us even better spatial resolution and imaging contrast,' commented Dr Adrian Lim, Consultant Radiologist and Head of the Ultrasound Department at Charing Cross Hospital in London, UK.
Professor Thomas Fischer, at the Radiological Institute at Charité in Berlin, added that, on top of '…the stunning quality of the B-mode image, Smart Fusion is most beneficial for clinical settings. This is the first feature to routinely allow calling up CT data sets and combine them live with the ultrasound images. That means I can navigate the CT and the ultrasound image in real-time, change values of the CT scan, directly compare findings, perform biopsies and administer contrast agents. Since the function is very easy to handle it is excellently suited for every-day clinical use.'
Bill Smith, Head of Ultrasound Services at Clinical Diagnostic Services in London, UK, underlines the advantages of the Fly Thru option for gynaecological and obstetric scenarios: 'Fly Thru is opening up completely new perspectives for non-invasive imaging diagnostics in the Ob/Gyn ultrasound lab. It offers the possibility to replace endoscopic examinations and may yield better results because the surrounding tissue can be seen at the same time.'
'High Density Rendering is a magnificent 3-D/4-D option that provides images of the foetus even better than current MR imaging techniques,' added Dr Rainer Bald, Head of Prenatal Diagnostics at Klinikum Leverkusen. The iStyle+ Productivity also improves ergonomics. According to David Cosgrove, Senior Research Investigator at the Institute of Clinical Science, Imperial College, London, UK, 'Aplio 500 works with impressive speed, offers a beautiful, compact and powerful design and excellent imaging in all modes.'
Details:
www.toshiba.co.jp/index.htm
Toshiba is at MEDICA
Hall 9. Stand D05

More on the subject:
More on companies: