News • Launch
Three improved cardiac marker test kits
Alere International* has launched three new next generation products: Troponin I -- a single-analyte, improved sensitivity Troponin I (TnI) test; Cardio2 -- a two analyte panel consisting of the new Troponin I and BNP, and Cardio3 -- a three analyte panel consisting of the new Troponin I, BNP and CK-MB.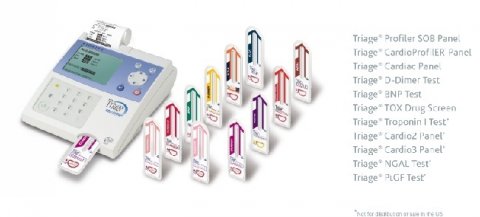 The firm reports that these improved tests are a further evolution of Alere's Triage cardiac testing solutions. Utilising enhanced TnI sensitivity they enable earlier detection of even lower levels of TnI, taking its measurement down to the 99th percentile -- a recommendation found in guidelines for emergency and cardiology departments as well as laboratories.
The improved sensitivity troponin assay, used on panels that simultaneously test other cardiac markers at the point-of-care, will allow emergency physicians to make far quicker decisions about the disposition of patients with chest pain/shortness-of-breath. When used in a rapid serial draw algorithm, the panel results can identify healthy patients sooner, thus allowing earlier discharge.
All three products are designed for use on the Triage Meter. They also bear the CE Mark, showing conformity with the European IVD Directive requirements for distribution within the EU.
Currently on sale in Europe, Australia and New Zealand, the manufacturer adds that the three tests will soon be available in many other countries.

* Alere is the new global brand adopted by many of the diagnostic and health management businesses of Inverness Medical Innovations.